I won't be buying a rotisserie setup this year(already spent all the money getting a 22"WSM and SS Performer), but I've had my eye on this one for a while. I first saw one, a couple of years ago, in a local store(now out of business), and it looked really good. They have since updated the design, and it looks even better!
It seems to solve some of the common problems of some of the other solutions out there (covers for the rotisserie holes, a seal for the door, solid door latch, disassembly for storage, etc.). It seems like a good solution for a Pizza accessory and for a rotisserie setup(don't need more capacity, that is what a 22"WSM is for).
I am a little surprised this hasn't really gotten any attention on forums, so I wanted to see what others think.
Product Photo: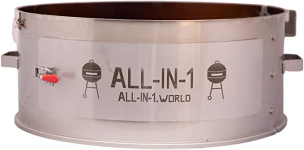 Amazon Canada Link