Hey everyone,
My name is Tyler and I'm based out of Cincinnati, OH. I have developed somewhat of an obsession with early Weber genesis models (90s-2000s) when production was still in the USA. I've always been a fan of things that last and making old things new again, and the older Genesis models seem to outlast anything that's made today. From what I've heard this is due to Weber moving their production overseas (China) and using a much thinner gauge metal in their newer models, which seem to rust out and fall apart after only a few years. They also lack the character that the older Genesis models used to have with their multi-colored lids and such.
If you're on Reddit at all, you may have seen a couple of my restorations that I completed during Covid lockdown. The redhead I still have today and is my go-to when I want to use a gasser. The green one I sold shortly after completion. Here they are below.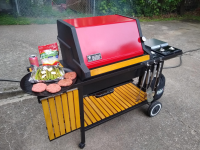 Anyhow, I just moved into a house, and a neighbor recently saw my redhead and asked if I would refurbish one for her. She was in the market for a newer Genesis and I told her I could get her one at a much lower price than what she would pay at the big box stores (newer Genesis models are going for $1000+) and it would likely last her a lifetime - so I'm currently in the process of refurbishing a mid 2000s Genesis for her. I don't plan on making a profit but just charging her what I have invested. I've always wondered if I could make a decent side hustle selling refurbished grills as the green Genesis did sell rather quickly when I posted it for sale, and there was a decent amount of margin in it.
Anyhow, that's enough of an introduction for now. I'm sure I'll be making more posts about my current and future restoration projects.
Cheers everyone!