This will be a work in progress, and I'll add in some comments and help I've received from other threads along the way.
Initially picked up for free as a "parts" grill so I could finish the red head that I had started on.
After learning more about it, and acquiring another "parts grill" I decided to get this grill operational, and then I'll consider next steps for restoring it.
First pic is the day I picked it up. Front rear burners were shot, wood falling apart but the grates and flavorizer bars were serviceable, and the most important part was the cookbox had slider rails that would hold a bottom pan.
The lower frame cross members were falling off the legs, the wood was splintered, left side swing up table missing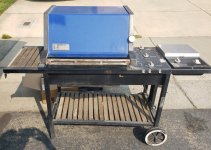 Last edited: