I have my hands on a
Garth Pizza Oven & Smoker
for a while and I enjoyed firing it up tonight for the first time. I'll have to give it back at some point ... they can pry it from my cold dead arms
.
From the bottom section up the sections are: storage, firebox, oven, smoking oven.
I used Bryan's dough recipe tonight, but I have some of Jeff Varsano's recipe (high heat) fermenting in the fridge to try another night. It contains no IDY just sourdough.
I lit with parafin & sawdust starter cubes and used 5 logs of really old cured birch for the firewood. Left the vents wide open and got the oven section up over 700ºF (at this point the smoker section was reading about 450ºF). I had a good hour of 500ºF+ to use from my five birch logs.
I have to say I'm pretty impressed with it. The pizzas were great. They cooked in 2 minutes flat, were about 10" across, got a nice char on the bottom.
Here are a few pics (there are more to be seen in the album):
The Oven:
Now We're Cooking:
2 Minute Pie, Fresh Basil and Pepperoni: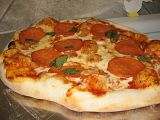 Crust: