Ran out of Chipotle Tabasco to use grilling burgers. Local Safeway did not have it in stock. Found this "copycat" of the web. Recipe is from
aninspiredcook.com
. We liked it better than the real thing.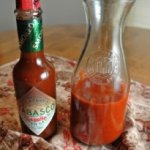 INGREDIENTS​
1
(7 ounce) can Chipotle en Adobo
1/4 – 1/3
cup Water
2 1/2
tablespoons Distilled Cider Vinegar (or more to taste)
1/2
teaspoon Garlic Powder
1/2
teaspoon Onion Powder
1
teaspoon Salt
1/2
teaspoon Sugar
DIRECTIONS​
Use a blender or hand emulsion blender to combine the sauce ingredients. Test sauce for thickness and taste. If too thick, add a little water. If the sauce requires more vinegar, add in 1/2 tablespoon increments until you have the desired taste.
Strain sauce through a strainer. Refrigerate any unused sauce.
Last edited by a moderator: