I made my favorite recipe from this wonderful site for a BBQ party a few weeks ago.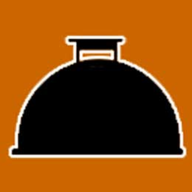 Babi Guling, Balinese Pulled Pork 1 pork butt or "picnic" pork shoulder, boneless or bone-in Kosher salt One 13.5 ounce can of unsweetened coconut milk 2 stalks lemon grass, outer layer removed, then pounded and cut into 4 inch pieces 3 Tbsp gula melaka or gula jawa (palm sugar), or raw sugar or...

tvwbb.com
6 lbs of bone in Boston Butt butterflied & salted.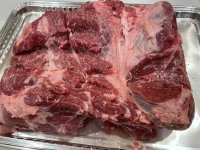 I prepared this amazing spice mixture in the food processor. Over the years, I've concluded that I like the mixture a little thicker because it produces a crunchier bark.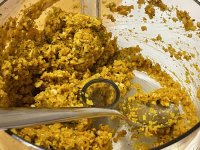 Prepped and ready to spread it on.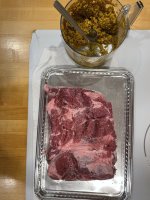 Rubbed the butt completely. Now it's just ready to be tied up.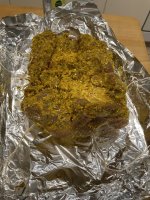 I need to improve my butcher knot skills but for this recipe, it just needs to hold together.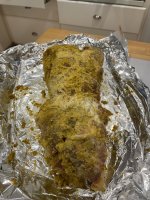 This butt took almost 10+ hours on the BGE. All the Thermoworks tools to keep it dialed in.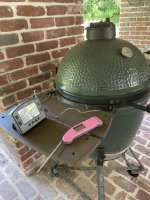 Since I cooked it the day before the BBQ party, I pulled it, bagged it in a sous vide bag, and shocked it in a cooler filled with ice and water. After an hour, it firmed up and cooled. I kept it in the fridge until the BBQ party.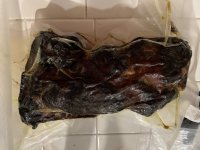 Reheated the bag the day of the event in the sous vide at 145°. I don't think I lost any quality and no one got sick. Win all around.
Made a second batch of the sauce from the recipe to mix it in when I pulled after reheating.
There was plenty of sauce and juice in the bag to from the reheat.
Kept it warm sitting over the sous vide in the in tin foil pan. It certainly didn't dry out this way.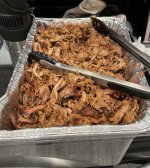 Served it on Hawaiian rolls with siracha mayo, chopped Thai chilies, Asian pickles and mixed herbs of Thai basil, mint and cilantro.
Last edited: