I've been finding signs in my smoker wood rack of carpenter ants. But I never see any ants. Carpenter ants leave little piles of sawdust they call " frazz " . I've been seeing this frazz in my wood and on the ground. But I've concluded that its not carpenter ants. Its some kind of boring insect, that eats out a tunnel into the wood, then lays an egg, and it develops into this larvae.
Yesterday, I split a piece of wood that I was gonna put on the smoker and found the larvae. Here's the creature and to its right, can see the tunnel something had bored to hatch this thing.
I've got no idea what this is. There is a variety of cockroach that lives outdoors. And I've found a couple of them dying after they'd eaten my ant bait, but this thing has really long antennae. And there's a lot of these things. I really don't mind them in my smoker wood, boring these holes just helps season the wood, but I think I'd like to know what they are.
BTW, this thing is about an inch long.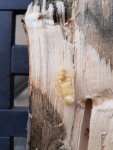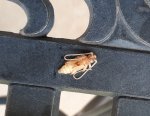 Last edited: