This one is easy, and you can adjust the heat up down or sideways as desired by changing out the quantity and type of pepper.
Lots of choices for cheese too. I've been using shredded Mexican blend from Costco because we have it and it works well and it is already shredded.
Ingredients
8 oz uncooked elbow macaroni
4 Tablespoons butter
2 Tablespoons AP flour
1/2 teaspoon salt ( more if using unsalted butter )
< customize your spices for your taste. >
This is a fairly mild amount of spice:
heaping 1/8 teaspoon white pepper
1/8+ teaspoon cayenne pepper
1/8 + teaspoon hot Hungarian paprika
1 3/4 cup milk
1/2 cup heavy cream
( or 1 1/2 cup milk and 3/4 cup half and half )
2 to 2 1/2 cups of shredded cheese.
Cook time...
Preheat your oven, or have a grill ready at 325F.
Get a pot of water boiling with salt added. You'll want it boiling when starting the sauce.
Have everything above measured out and ready to go before you start as there is no time once the cooking starts.
Cook the macaroni for 5 mins and drain while very al-dente.
The sauce takes about 5 mins so the timing works great.
Melt butter in a sauté pan, which is the final serving pan so it needs to be a decent size.
add flour, salt and spices, and stir while cooking over medium heat forming a rue
( about 2 mins )
slowly add half the milk/cream cook a minute or so then add the rest stirring all the time. I use a silicon whisk.
cook for a couple of minutes and when the sauce starts to thicken, turn off heat.
Add one cup of shredded cheese into the sauce and stir.
The macaroni is done about the time the heat is turned off on the sauce so drain it, and dump it into the sauce and stir.
Add another 1/2 + cup of shredded cheese and stir that in to the hot mixture.
sprinkle 1/2 cup of shredded cheese ( or more if you like a lot of cheese ) on top.
Bake uncovered at 325 for 15 to 20 mins.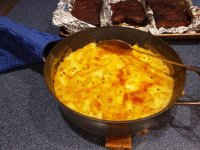 If making ahead of time, I'll pour the prepared mac-cheese mix into a heavily buttered baking dish, top with cheese and refrigerate.
cooking if it is made ahead and refrigerated takes 45 mins to an hour, with the first 30 minutes covered.
Last edited: