Cool, rainy day here today and had half of a brisket flat sitting in the fridge in corned beef brine. We made corned beef from the first half after being in the brine 7 days and I was going to try 14 day corned beef, but altered course and decided to try some pastrami instead. This was also the first time we ever made corned beef and it was amazing!! Had lots of room left on the S6 so pulled out a small pork blade roast and decided to smoke both at the same time. Charcoal is getting expensive here so getting some double duty from that nice stuff!! Rubbed then both up and on they go... Pork rubbed with pepper, salt, seasoned salt, garlic, onion, and paprila. Beef rubbed with black pepper and coriander (and a little paprika for more color).
Also my first time I have tried to smoke on the S6 using the SnS positioning for coals too. Was already set up that way from my previous cook and didn't feel like doing a complete changeover to the lower level.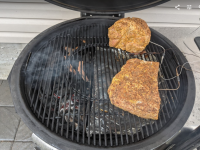 Live cook on the Thermoworks Signals watching guard.
https://cloud.thermoworks.com/shared/mNmUPLTzDl74Dp0pCou4
Last edited: