Cork This, Tap That Bar & Restaurant
26091 TX-105
Montgomery, TX 77356
Cork This Tap That - Bar and Restaurant, Montgomery, Texas. 7,079 likes · 111 talking about this · 8,997 were here. New Ownership & Management
www.facebook.com
It's been a while since I "filed a trip report" so I'll share my latest adventure. I took a work trip to Houston a couple of weeks ago and got to "smell the roses" a little bit. Here are some photos from Minute Maid Park and a cool bbq spot I found out west of Houston.
Minute Maid Park was a lot of fun, we sat in the cheap seats and had some beer and hot dogs. They actually tried to make the park look like a train station on the outside, and it was a really nice place to enjoy a ball game, even when I'm a St. Louis Cardinals fan, and the Astros were playing the Mariners... I got to see Justin Verlander pitch which I though was cool too. Also cool because the roof was closed and the AC was on. It was "Houston Hot" the whole time I was down there!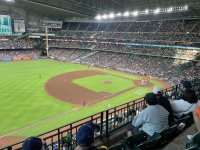 Here's my favorite Houston Local beer. Kind of like Shiner Bock but maybe just a touch more malty? I'm not a beer tasting expert. But if you like Shiner Bock, you'll like this one. All the fans were friendly & the crowd got into the game in the last 3 innings. This is the 5th major league park I've been to and probably my 2nd favorite. I like Busch Stadium in STL but honestly, this place is a nicer place to watch a game. Having the roof in place and AC on didn't hurt my feelings : )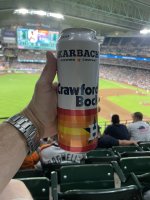 On to more series topics - the BBQ! I didn't have the chance to find BBQ in Houston metro, but we had to go out past Conroe one day and found this little gem. It's not "exactly" a BBQ place but they did have a killer atmosphere, and a really good BBQ sandwich. "Cork This, Tap That is a pretty cool place. How could you not give it a try when it looks like this?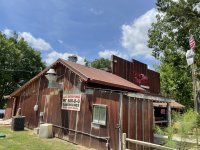 Lots of rusty tin and interesting decorations inside too. They have a full service bar, but I was there for lunch on a Wednesday, so no beer for me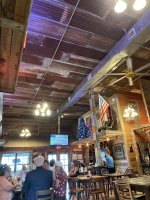 BBQ sandwich and potato salad was 4.5 stars. Of course being in TX, it was shredded beef, mixed with some BBQ sauce rather than pulled pork. As you can tell from the photo, I was hongry almost forgot to take the photo....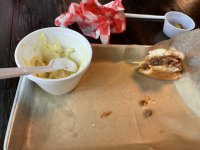 Before I left I had to use the mens room and was surprised to see something I'd never seen before - a repurposed keg urinal! Is that a keginal?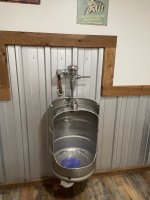 If you're ever near Conroe, TX, give this place a try!
Last edited by a moderator: