Edited Aug 2 2014
I redid the calculations with the calculator in the Charcuterie forum. #1 in this recipe was out of whack at 80g
Flavor Brine Cure Pumped Method
Trimmed 12lb flat (trimmed weight), leave 1/2" fat cap on if possible.
Spice Mix
3 Tbsp peppercorns
1 Tbsp dill seed
2 tsp corriander seed
1/2 Tbsp mustard seed
1 tsp celery seed
1/2 tsp fennel seed
2 Tbsp dehyd minced garlic
1 Tbsp dehyd minced onion
1/4 tsp crushed red pepper
Brine Cure
4800ml water
186g salt
prague #1 :
min 120ppm: 19.7g
max 200ppm: 32.8g
Optional, sugar 1% 102g
Triple ingrediants for spice mix. Beat up seeds and peppercorns with mortar and pestle (not to powder).
Add spice mix to brine, bring to boil, remove from heat.
Strain brine with fine mesh strainer. Chill below 40ºF, inject 15% of brisket mass (in grams) in milliliters. eg 12lb brisket = 5500g * .15 = 825ml of solution to pump
Soak 4 days submerged in remaining brine cure. Agitate/flip daily.
Remove from brine cure, blot dry, place on tray in fridge and allow to air dry while doing next steps.
Make another batch of spice mix. This time toast the peppercorns and dill seeds together over medium heat for a couple of minutes (until fragrant). Repeat with coriander and fennel (these don't take as long). Repeat with celery seed and mustard if desired, but these take less time again, remaining heat in pan seems to do the trick.
Coarsely crush all ingredients with mortar and pestle, not too coarse but not to powder either. Mix well.
Apply rub fairly heavy to exterior (I skip fat areas). Push rub into place firmly with the back of a spoon.
Smoke approximately 6 hours at 225ºF to 140ºF - 150ºF internal over maple and/or birch.
I revisited MSM and tried flavor brine cured with injection and it's extremely good. Much faster, better flavor throughout and better color this way than with dry cure (this turned out more red less pink).
I had a huge flat, about 12 pounds trimmed to use this time. I brine/cured it whole after injecting, then decided before smoking to cut it in half for more rub & smoke surface area.
I smoked 1/2 until 150ºF internal, the other 1/2 to 165ºF internal. The difference on the 165ºF chunk was 5 hours, double the time of the 150ºF chunk. Lower was clearly better in this case. More smoking didn't make it more tender, it just got drier.
Serve hot on rye with mustard and a sour dill pickle.
I am extremely pleased by the results. The flavor is excellent but it still needs some process improvement to be more tender AND moist.
Thanks much To Kevin Kruger for the help with water/prague/salt/pump ratios.
After Cure: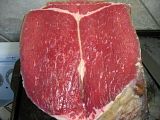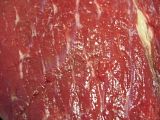 Done: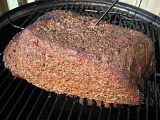 Cold Sliced: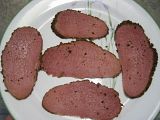 ----------------------------------------------
----------------------------------------------
DRY CURE METHOD - Last Updated April 30/2006
My second attempt at Montreal Smoked Meat turned out very well, couldn't be happier with it. I used a flavored dry cure method for 15 days then smoked for 12 hours at 200ºF - 225ºF with birch (bark removed) and maple to an internal temp of 165ºF.
Pics Here
click link to 2006-04-24 Montreal Smoked Meat
Montreal Spice Mix Base (no salt)
3 Tbsp peppercorns
1 Tbsp dill seed
2 tsp corriander seed
1/2 Tbsp mustard seed
1 tsp celery seed
1/2 tsp fennel seed
2 Tbsp dehyd minced garlic
1 Tbsp dehyd minced onion
1/4 tsp crushed red pepper
Toast first 6 ingrediants over medium heat until fragrant, about 5 minutes
grind coarsely with mortar and pestel, add remaining 3 ingrediants. *Add hickory smoked salt to taste for a great ready to use spice mix for grilling.
Mix amount of Morton Tender Quick per brisket weight as directed on package with 1 Tbsp Turb sugar and amount of desired spice mix, apply evenly over meat side (not on fat cap side).
Allow brisket to cure at least 5 days per inch of thickness in 40º or less fridge. Agitate and flip daily.
Remove brisket and rinse thoroughly, soak for 3 hours in cold water, changing water several times. Blot dry with paper towels. Apply spice mix base liberally over meat side. Cook fat side down to internal temp of 165ºF. Foil and rest in dry cooler at least 1 hour (fat side up). Allow to cool somewhat on the counter and refrigerate.
To reheat before serving wrap tightly in foil and place in oven or steam slices for a short time. Serve in rye bread with lots of cheap yellow mustard and a dill pickle.
**I added some liquid and vacuum bagged during the 'dry' cure (I have a 1060 with instant seal to prevent liquid from being sucked up). It was a pain, next time I'll just use a marinating container. But it went something like this:
1/2 C de-alc red wine
1/2 C Water
1 Tbsp Mortons Tender Quick
Mix liquids and Tender Quick. Dump into vacuum bag and freeze. Put brisket in vacuum bag, carefully vacuum and seal.
Last edited: