Note From Moderator: This was the latest known link to Kevin Taylor's excellent Beef Jerky page that shows how to make jerky on the WSM - http://www.thebbqguru.net/tutorials/kevis-jerky/ Unfortunately it doesn't seem to be working. For now, I will attach a screenshot of an old version of the page for you to enjoy.
Hi all!
This board was getting lonely so I thought I would use it! LOL
I just purchased 25 pounds of bottom round on sale for $1.49/lb. I usually use top round, but the prices have been much too high lately. The meat looked great with very little fat and minimal waste. I will cook up 5, 5 pound batches for the holidays.
I went to cook the first batch Friday and my tusty old electric Char-Broil died!! What to do???
Figured what better time to try the WSM for the jerky. I have never done it before on the WSM, so I thought I would give it a shot. I always wondered how the WSM would work for this venture. My concern was, how to keep the temps low and still have a 5-7 hour cooking time. The weather was in the mid-40's with a light breeze.
I used the Minion method with the following number of briqs......30 unlit in the ring, a single layer. Then I lit 10 in the chimney. I used an empty water pan....I still want to deflect the heat, hence leaving the water pan in.
After 35 minutes the temp was up to 177*F but climbing a bit quick. Turned all the vents, except the top, to the closed position. 35 minutes later and it had dropped to 145*F. Keep in mind, I was only paying half attention to the cooker...so I would set the vents and then go away for a half hour.
Opened them 1/2 open and struggled to get the temps up. I finally added anpother 10 unlit briqs and opened the vents full. Got it to 170*F, closed the vents to about half and it stabilized.
The jerky was finished at the 6 hour mark. The temp had by then dropped to 104*F and there were no more coals left.
The jerky came out great and I will continue to use the WSM to make it! I think if I had paid a bit closer attention during the start, it would have gone much smoother.
Overall, I was very impressed with its ability to get a long cook, keep the temps below 180*F and use only 50 briqs total.
Here is the recipe I used for this batch. After the lengthy discussion on Tender Quick I tried using Kosher salt and only a Tablespoon of TQ. The results were very good so will continue using Kosher salt and only small amount of TQ...
Kevi's Jerky
5 pound(s) Jerky meat
1/2 cup Sugar
1/2 cup Kosher salt
1 tablespoon Tender Quick
1/2 cup Honey
1/4 cup A1 Steak Sauce
1 tablespoon Garlic powder
2 tablespoon(s) Yum Yum Steak Seasoning
1/2 teaspoon Habanero powder
Water
PREPARATION:
Combine all ingredients, add meat and add enough water to cover meat.
Marinate for 2-3 days.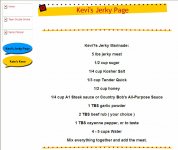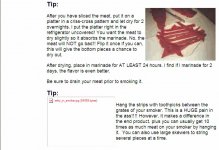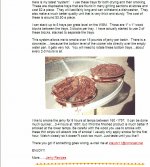 Last edited by a moderator: