How many times have you been so excited to eat delicious smoked meats that you've forgotten to stash / archive the database? Never? Well... I guess that's fine too, but now HeaterMeter will automatically stash databases for you!
If you've never visited the Archive page, or don't have any idea what I am talking about, this is where you can store your graph data always and forever. We've had that almost since the beginning, but the new feature is now when the system starts up, any pre-existing database is automatically stashed if it is over 24 hours old. The old system would just fast forward the database to the current time and continue writing to it. Since it only stores 24 hours total, this would effectively wipe out any preexisting data. The autostash backup is always named "LastSession" in the archive list.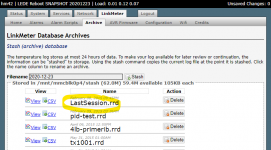 The same filename is used every time, because most times I don't want to save my database so I don't want my stash filled up with worthless backups from every time I plug in my HeaterMeter. As you can see, I only have 59.4MB of space left there and that's only 565 more! If you actually want to save it, then just click the filename (LastSession.rrd) and rename it to something else so it won't be overwritten by the next autostash operation.
Important note: Autostash only happens if the device has been unplugged for more than 24 hours. If you forgot to stash and then plug in the next morning the system will pick up from where you left off and you'll have a big gap in the graph and no LastSession will be created. The best thing to do is always to stash right at the end of your smoking session, but this is a fallback for those of us who are too dumb or too drunk to remember to do it then.
Available in firmware snapshot 20201223 and above.
Last edited: