A bundt cake I'm working up.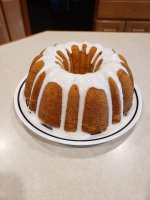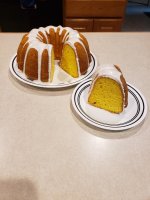 One lemon cake mix
Cake flour to increase mix weight
1- lemon zest
1 cup Vegetable oil
Juice of a lemon
1 teaspoon lemon flavoring
4 large eggs
1 cup water
3 boxes of 3.4 oz lemon pudding mix
Baker's Joy cooking spray
Glaze
1 cup Confectioners' sugar
1 teaspoon lemon flavoring
1 Tablespoon butter - softened
2 to 3 Tablespoons milk
Set oven to 350°F. Once at temperature pre-heat cast iron bundt pan.
Zest lemon.
Juice fresh lemon.
Soak zest in fresh lemon juice.
Weigh cake mix and add additional cake flour to obtain 18.25 oz by weight.
Transfer lemon cake mix/cake flour to mixing bowl.
Add dry pudding mixes. Mix to incorporate dry ingredients.
Add oil and eggs.
Add juice and zest.
Add lemon flavoring.
Mix; adding water to thin batter appropriately. Note: It may not require the complete cup.
Remove cast iron burnt pan from oven and coat inside with Baker's Joy. Carefully add batter to bundt pan. Bake 50 to 60 minutes or until a toothpick removes cleanly.
Remove pan for oven and place on a rack to cool. After 10 minutes cake should pull away from edges of the pan. Invert cake on cooling rack, removing from pan and cool.
Glaze when warm. Cool for several hours once glazed.