Administrator
Staff member
WSM Smoke Day 17 t-shirts are now available at Represent.com
for $22.99 plus S&H and sales tax. Available in 11 colors in sizes up to 5X. A portion of each purchase helps keep the lights on here in the forum.
Please expect shipping delays due to COVID-related issues with shipping carriers. Make sure to order your t-shirt ASAP so you receive it before the big day on May 29.
Thanks in advance for your purchases! Happy Smoke Day!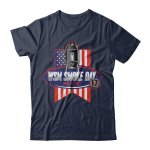 Last edited: