Earlier this year, I baked some
Sausage & Green Chili Kolaches
in my dutch oven. I have been working on the recipe, particularly the dough and have the following status report:
1# of Jimmy Dean Regular + 1 can of Ro-Tel diced tomatoes & green chiles (drained) + Sharp Cheddar
Ready for the Smoker along with a couple of moink balls and another fatty (Sausage + Diced Green Chiles + Cheddar, no tomatoes)
Did this batch on the kettle after cooking some chicken quarters for dinner. Cooked them all at about 300 for a little over an hour. Took them off when they looked right.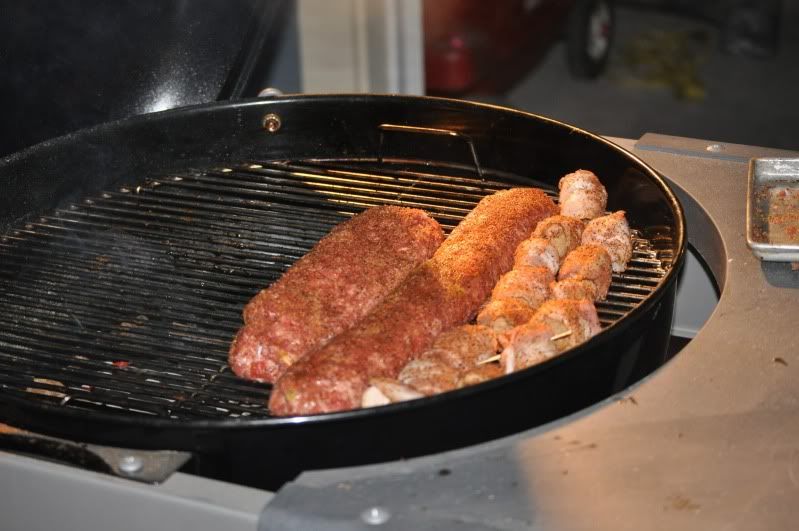 Tossed the moink balls in a little 'Texas in a Bottle' that I got from a friend in Washington (?).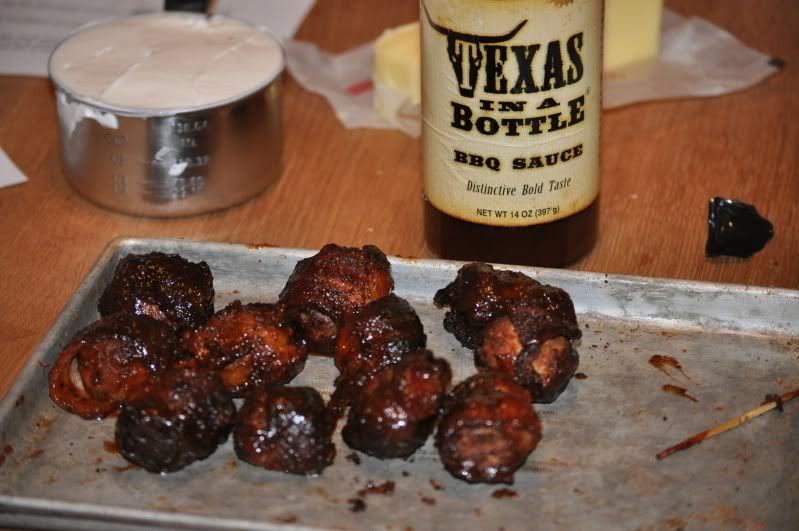 Checked the cheddar and green chile fatty for fattiness - all good.
Made up a new dough recipe that used sour cream, sugar, flour, salt, eggs and yeast. Put it all the refrigerator last night.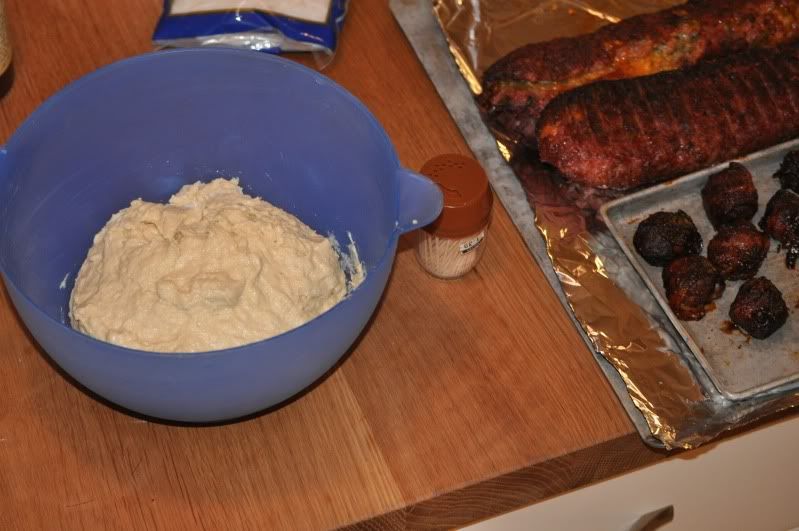 Got up this morning and did a course chop on the moink balls (middle), sausage, cheese and green chili (lower left), and sausage, cheese, rotel and green chili (lower right).
Tore off a golf ball sized piece of dough and laid in the chopped fatty and little more cheese. I made six or eight of each flavor.
While the kolaches were proofing, I set up to bake them on the WSM. I put the charcoal grate on top of the lower grill grate along with the charcoal ring. I fired a full chimney of Kingsford Competition and spread the coals around the perimeter of the ring to encourage good heat circulation.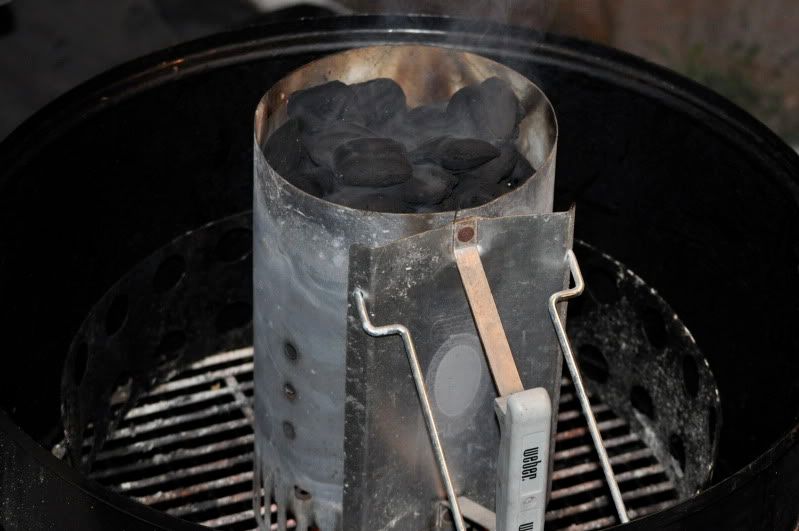 I wrapped the bottom of my rib rack with HD foil to make a heat diffuser and put my pizza stone on top. First batch shown below (the fatty cube on top is for the Sausage & Rotel Fatty).
I baked at 300 to 350 for about 25mins. The lid gauge hung around 325 most of the cook but who really knows how close that is. Here's a shot of batch 1.
And a close up of the sausage, cheddar, green chili and rotel kolache version 2.0.
Compared to my previous versions, I like this dough better. It is sweeter and lighter than previous attempts and not very floury (if you know what I mean). I buttered the exteriors quite a bit before baking which seems to have delivered a better exterior texture. I still need to stretch the dough out more when I fill them. I could get more meat per kolache by rolling them out and will try that next time.
Otherwise, they looked and tasted great. I served them to my Sunday School class this morning and as soon as I peeled back the foil, the aroma of smoke meat pervaded the room. They were still nice and warm and disappeared quickly.
Enjoy.