Here are some photos from around the new E6. I've had a couple of smokes on it now and I'm really loving this new cooker!
Two 4.5 lb pork butts (before)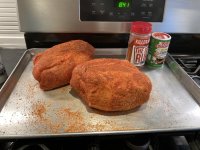 Two pork butts after! I filled the charcoal chamber with KF original, about 1/3 full and banked it to one side and lit the end of the pile and burned it fuse style, and kept the bottom vent on "smoke" and used the top vent to fine tune/adjust to keep temperatures around 250 or so. This photo was right before wrapping. Butts turned out great but I was a victim of stale smoke wood..... I have some stale wood that'll be going into the fire pit at some point.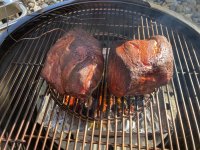 Here's a nice Oktoberfest beer from St. Louis - Shlafly is our oldest and possibly biggest craft brewer in St. Louis. Like many others, they started making pale ales about 20 years ago or more and are still going strong. Their Oktoberfest was really good this year.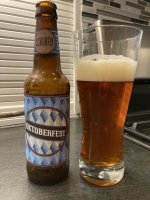 The next smoke was a rack of St. Louis style spare ribs, base coated with a light schmear of yellow mustard, light to medium sprinkle of Chechares and a medium to heavy coat of Killer Hogs. I had some fresher pecan chunks to use on this cook, and I got better bark and smoke flavor. I used my medium sized vortex in the bottom of the cooker, then placed small pecan chunks around the outside diameter, then KF Original over the top of that, and lit one side of the fuse. I decided to follow A Frankin's rib smoking methods and ran the cooker at about 275F. I only had to adjust the top vent about 3 or 4 times during the 5 hour cook.
Before;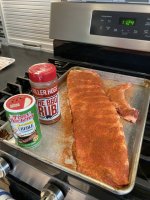 After - these ribs were a big hit. Loved the bark I got on these.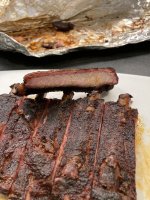 Washed down with.... you guessed it, another St. Louis Oktoberfest. Urban Chestnut imported their Brewmaster from Stuttgart..... all of their German style beers are pretty authentic. This one is probably my fave, but it'll be hard to find pretty soon.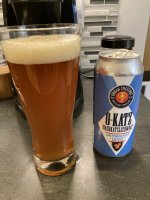 I'm grilling steaks tonight, and probably a BC chicken tomorrow so I can sample a turkey brine I bought. Cheers everyone!