Administrator
Staff member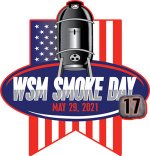 2021 marks the 17th anniversary of WSM Smoke Day! This event was the idea of TVWBB member
Joel Kiess
, and it's a fun way for us to share our enthusiasm for the Weber Smokey Mountain Cooker. On May 29--the Saturday of Memorial Day Weekend--we barbecue something on our WSMs in our own backyards and share the results online by posting photos here on the forum and on Facebook, Twitter, or Instagram using hashtag
#wsmsmokeday17
.
Remember, if you don't post photos,
it didn't happen!
If you don't own a WSM, you can still join in the fun, just cook on whatever grill or smoker you've got. (But there's plenty of time to
buy a new WSM
and cook on it for Smoke Day!) And if you can't cook on May 29, that's OK, just pick another date that works for you.
WSM Smoke Day 17 t-shirts are now available.
Order soon to make sure yours arrives in time for the big day! Available in 11 colors and sizes up to 5X.
Hope you have a great WSM Smoke Day and a great summer ahead!
Best,
Chris
Last edited: