Hi all!
New member from Minnesota here. Came across this forum last week and, boy, it got me going! I've had a Weber Genesis 2000 for about 8 years now. Got it from a guy who kept it pretty meticulous (he was German, of course). Just find the invoice for it, he paid about $690 for it in '96. Anyway, as a busy father, etc., I did not treat the old beauty so well and there was many a winter night where the poor thing sat there uncovered in the snow/sleet.
We're moving to a new house with a built-in outdoor gas connection so I was thinking about a new grill. Somehow I came across a photo of a restored Weber Genesis and that got me really excited to restore my own. Not sure why, I'm certainly not the handiest guy in the world and I definitely lack good tools. Maybe I'm just getting to be an "old guy"? I also love the classic, retro looks. I didn't give her 2 seconds of thought the past 8 years and this last week it became an all consuming passion! Thank you all for the wonderful resources and guidance you've shared on these forums. Couldn't have done it without you.
One more mea culpa. Stupidly I did not take a before picture (too eager and just dove into disassembly). It looked pretty much like this, although a bit better: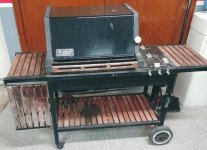 Below are the after pics. The day pictures were taken before I installed the new igniter so you'll see the control panel popped up. Cleaned with Simple Green and 0000 wool. Slats are cedar. I used a water-based spar urethane because I wanted to keep the natural white-ish look of the pine. I like the contrast with the black.
Spray painted the frame with Rustoleum high heat Ultra and the firebox and side panels with the Rustoleum high heat flat. I didn't sand off the Weber symbol because I liked the matte. Also spray painted the wheels. So, yes, I can be accused of not being 100% authentic in restoration. The wood handle is the original. I just sanded it down and added spar. I think the patina is cool. Ordered new flavorizers from RCplaneguy. Spending loads of money on the new house but will plan to buy new SS grates in the next few months if the fates allow.
Very happy I was able to get that flip table back on. Had to monkey with that for a while. I'm sure I've made some mistakes but I love her...now I gotta find another one to fix up!