EDIT: This affects both AP and Client mode on Pi3B+, but AP mode is more consistently broken. Only remedy is to switch to 5.8GHz wifi or lower 2.4GHz output power to 10dBm if you can.
details
I've been doing some experimentation on the bench with a HeaterMeter 4.3.4 and a Pi 3B+ and I'm seeing just a ton of noise on the thermocouple input when the Pi is set to AP mode. I see the noise icon in the webui home page and it looks like this on the noise graph.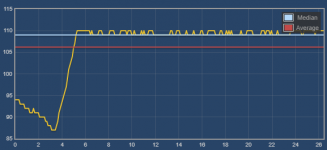 It looks like this on the output from the thermocouple amplifier.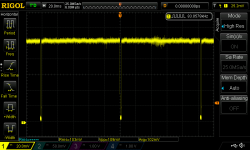 Note that it drops completely to 0V every 100ms, which is the AP beacon interval of the wifi network. When in wifi client mode, these drops aren't there at all, although there does appear to be a tiny change in the output if transferring something over the network (wget a large file across the network). I've looked at the power supply voltages on the oscilloscope and they look pretty good. The 5V line has a bit of a dip and overshoot at the 100ms interval, the 3.3V regulator rejects some of that so the output to the amplifier is cleaner.
Added a 10uH inductor before the 3.3V regulator
Added a ferrite bead before the thermocouple amp
Increased the ground resistor on the amplifier from 1K to 1M
Doubled the capacitors on the 3.3V rail to 2x100uF
Doubled the decoupling capacitor at the amplifier to 2x0.1uF
The power input now has less than 5mV of ripple to it, which is probably just the scope picking up noise from the ground wire, and I still have a full scale drop out on the amplifier every time the wifi transmits. The wifi antenna is located pretty close to the thermocouple amplifier, so I tried to wrap the amplifier with a little aluminum foil shield but it didn't seem to make a difference. I also replaced the actual thermocouple with just a shunt to remove the possibility that the wire was acting as an antenna.
I suppose I posting this more for informational purposes than anything else. I think the only way to improve this is to physically separate them. I haven't tried the Pi ZeroW to see if it has the same problem, but I'd be interested to hear if anyone has any ideas on how to resolve this.
Last edited: