Had a really nice Thanksgiving Day at home with just DLSW and son (and cat). Not many pictures, but fantastic meal, good company, and plenty of 'thankfulness'.
Tuesday: 12lb, fresh turkey purchased at Costco. Spatchcock and dry brine the turkey. My spatchcock skills are basic at best, so it's kind of a frankenturkey.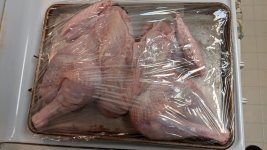 Thursday: smoked on the WSM. Rubbed down with olive oil and herb mix while WSM came up to temp. Dry water pan (foiled), KBB and a couple of pecan chunks. Wide open on the vents x about 2.5 hours. Pulled it off when breast temp read 155. Rest for 30 minutes while I warmed up the sides of charred/steamed brussels sprouts, steamed broccoli, corn bread, etc. Final breast temp 161.
Frankenturkey on the WSM -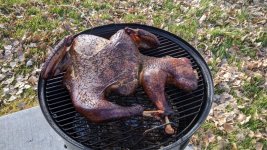 Dinner table, with honored guests who have departed us in the last year or so: