Administrator
Staff member
Micklethwait Craft Meats
1309 Rosewood Ave., Austin TX
Micklethwait Craft Meats BBQ & Beer Garden | Austin, Texas

craftmeatsaustin.com
On our way to
Camp Brisket 2020
in College Station, TX, my wife and I stopped at
Micklethwait Craft Meats
in Austin for lunch on January 9. It's just 1 minute (0.4 miles) away by car from the uber-famous Franklin Barbecue, it's rated the #8 barbecue joint in the state in the 2017 edition of
Texas Monthly magazine
, and there's essentially no line at 11:00AM opening on many days.
Located in a cheerfully painted vintage trailer on a vacant lot tucked in a residential neighborhood, owner
Tom Micklethwait
(the "th" is silent) has been cranking out great barbecue since 2012. A huge converted propane tank offset pit resides in its own screen-enclosed trailer adjacent to the kitchen trailer. Out front, picnic tables with an awning provide a comfortable spot for casual dining, and there's overflow seating behind the trailers.
As for the menu, beef short ribs, brisket, pulled lamb, pork ribs, two varieties of sausage, barbacoa, sliced pork shoulder, and smoked chicken are sold by weight; some are available in 2-meat and 3-meat plates or as a sandwich. Sides include jalapeño cheese grits, mac & cheese, ranch-style beans, lemon poppy slaw, potato salad, beet salad, and chips. Desserts include banana pudding, buttermilk pie, and peach cobbler.
On the day of our visit, they only had three beef short ribs to sell. Yes, I mean three individual bones, that's it. We were early enough to snag Bone #2 and it was delicious! We also got some lean and fatty brisket, a mild sausage link, some of the roasted beet salad, a few pickles and onions, and a couple of slices of white bread. A single barbecue sauce and hot sauce are available at the table. The beef rib was the best, followed by the fatty brisket and the sausage. The lean brisket was a bit dry, as it tends to be, but that's what barbecue sauce is for, right? My wife was especially fond of the roasted beet salad, it had great flavor and was a colorful addition to our meat tray.
Next time you're in Austin looking for good barbecue without a long line, give Micklethwait Craft Meats a try. No, it's not Franklin Barbecue, but I think you'll like it a lot.
Here are a few photos from our visit, I hope you enjoy them.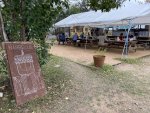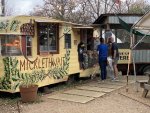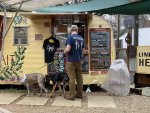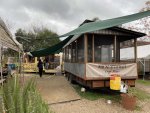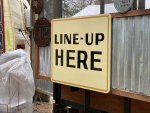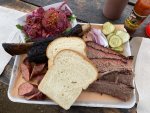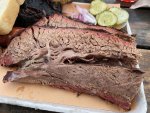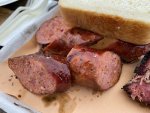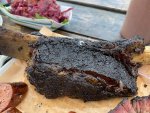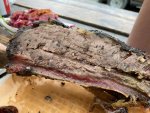 Continued...
Last edited: