This is a dish that originates from the beautiful town of Gandia Spain. It's prepared in a similar manner as a paella, but it exclusively uses seafood and the rice is substitued with fideo pasta, a short cut thin pasta. Note that I don't use fixed measurements, so the following is approximately what I use for a 20" paella pan on top of the 22" kettle grill. The pictures are with an 18" pan.
Prepare a sofrito: I dice a few tomatoes, chopped or sliced garlic, 1 tsp of pimento (smoked spanish garlic) and a little salt. Others may want to add onion, I don't, but that's just personal taste.
Prepare a fish broth: I've been using haddock, but the real recipe calls for monk fish. If I use calamari, i'll add it to the broth.
Add a pinch of saffron to a half a cup of warm water.
Once the sofrito and broth are ready, I light a full chimney of brickets and then spread the coals out evenly on the grate.
Set the vents low and place the pan on the grill, add enough olive oil to saute the sofrito. If I'm adding shrimp I will slightly cook them with the sofrito, but take them off after a few minutes.
Mix in about 1 1/2 to 2 cups cups of fideos for the 20" pan, saute briefly and then add the broth; about 2 to 3 times the amount of pasta and stir.
Add the saffron.
Add in any other seafood, such as shrimp, mussells, clams, scallops, calamari, etc.
I'll bring the contents up to a boil, cooking it uncovered and slowly reduce the heat as it cooks. Taste it as it cooks and add salt as needed, but note that as it cooks down, it will concentrate, so be conservative.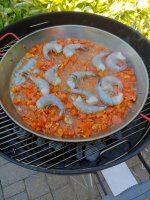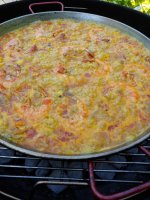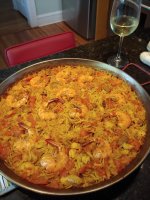 Last edited: