I took a couple slices from the three briskets I smoked the other day and came up with this little creation that was so delicious that I HAD to share it with you guys.
When I trimmed off a bunch of fat from all the briskets I smoked the other day, I filled up my 8-qt. Dutch oven with most of it, popped it in the oven and made beef tallow. I mention that, because I took some potatoes, sliced into 'em a bit to allow them to steam during the cooking process, and rolled them in the warmed up beef fat in my cast iron skillet. I added some salt and popped 'em in the oven at 375 degrees for an hour. Probably the best baked potatoes I have ever made.
Cheese dip recipe guide below the photo.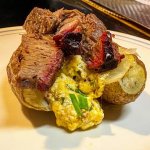 The cheese dip is a bacon jalapeno cheese dip:
Quick note: when I made jalapeno poppers for a big event the other day, I had some leftover cream cheese in a bowl. I'm calling this 'recipe' a 'guide' because I can't say the exact measurements to be accurate. I probably had around 3-6 ounces of cream cheese. The cream cheese had been mixed in a bowl along with some shredded Mexican 4-blend cheese with a generous dusting of Meat Church Holy Voodoo rub.
-- I sliced'n'diced two jalapenos (deseeded) and cubed up about 6-8 ounces of Colby Jack cheese.
-- I fried about four slices of bacon in a different cast iron skillet (vs. the one I used for the potatoes). I removed the bacon, sat aside, and drained some of the grease, crumbling up the bacon afterwards.
-- After that, I sauteed the jalapenos. I was hungry and in a hurry, but sometimes for this dip I'll dice half an onion and add it as well as two or three cloves of minced garlic. However, I did add some dashes of garlic and onion powder respectively.
-- Following that, I had the heat on medium low, and I added the cream cheese mix mentioned above, and whisked it up. Moments later, I added about 1/2 cup or less of chicken broth. Continued whisking before adding the cubed Colby Jack cheese. I let it heat up and melt into the mix. You can roll the cubed cheese in a little bit of corn starch to thicken the dip up if you want, but I never do, because I like the consistency as is.
-- By this time, the potatoes were done. I popped the skillet with the cheese dip into the oven, set it to broil and allowed the top to brown. When I took it out, I added the crumbled bacon as well as some chopped green onions.
I threw some butter inside the potato, added the dip and brisket, and man oh man was it good!