A couple weeks ago I was planning to make a family favorite marinated and grilled flank steak. I was picking up a few things at WalMart and as I was walking by the meat case I noticed they had a package of skirt steak for a very good price. I thought I could just as easily use skirt steak instead of flank, especially since the price was less than half of what I pay at one of my "go to" meat places. Well, if I had taken the time to properly finish trimming the skirt steak it would have been fine. The fine butchers at WalMart (I know, WalMart doesn't have butchers) left quite a bit of silver skin on the meat which made for a tough finished product. Anyway, it was still edible and a good meal nonetheless.
Started with sautéing some red and yellow bell peppers and onion in olive oil, seasoned simply with salt and pepper.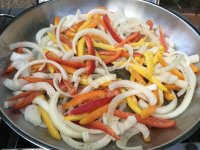 Steaks on direct. Marinated in olive oil, balsamic vinegar, dijon mustard, garlic, and probably a couple of other ingredients.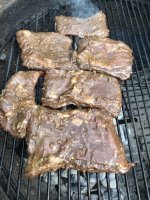 Some Ciabatta rolls on standby, ready for toasting.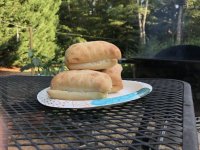 And the finished product. A little extra dijon added to the bun and a side of potato rounds. A little tough, but still a fine-tasting sandwich.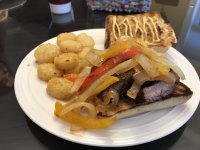 Next cook. I had an extra long weekend so my wife and I made a trip to Grillbillies in Wendell, NC. I've seen advertisements for it and wanted to check it out. It was a little bit of a drive for us, but I'm glad we went. Quite a few smokers (offset and pellet) that you can actually put your hands on and a lot of rubs and sauces. They allow you to taste any of the rubs and sauces they have, and they even put together some combinations that they use in competition. Since it's an 1:45 drive I won't be going there too often, but it was definitely worth the trip. I ended up buying a Kosmo's Q chicken brine, a couple Heath Riles rubs, and a Smokin' Guns rub along with a couple sauces.
Tonights cook was two chickens. One was brined in the Kosmo's for about 6 hours or so, then seasoned with a Heath Riles Peach rub. The second was not brined, but seasoned first with a Smokin' Guns sweet heat rub, followed by Meat Church Honey BBQ. Put the on the 22" WSM, temps hovered around 280-300 (+-), added one small chunk of hickory and one small chunk of cherry. Both chickens were great, but the brined bird edged out the un-brined by a hair.
Chicken on. Brined at the top, un-brined at the bottom.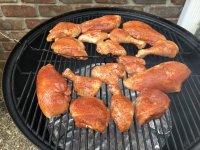 This was at the 1-hour mark. Temps were already close to done, but I flipped them for about 15-20 minutes.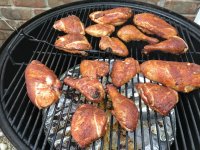 The wife made some outstanding macaroni and cheese.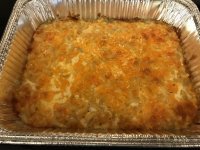 The finished plate. Corn was simply grilled in the husk, no seasonings needed. The jalapeño serves absolutely no purpose in this meal, but the plate needed some color.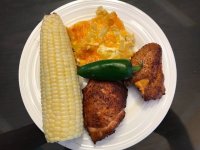 A delicious Labor Day weekend meal. Thanks for stopping by.