Just a regular Wednesday cook, nothing fancy….
The players, 80/20 patty with KS and P, ABT with plain cream cheese and a little seasoned salt, store bought bacon for the burger.
Two small splits of pecan for a little smoke. Pecan is definitely my favourite smoke wood, I add it to almost all of my high heat grilling. Not sure if this is the best technique or not, but I let the wood get going for a while before I add any food. To me it basically is like mixing in a little natural lump by the time the food goes on.
Fired up the old workhorse with mostly left over KBB adding only half a Weber mini chimney of new briqs.
Action shot with pecan flaring up because I took too long trying to get the right picture. Yes, I added some sweet Italian sausage just because I saw it I the fridge while I was getting things ready.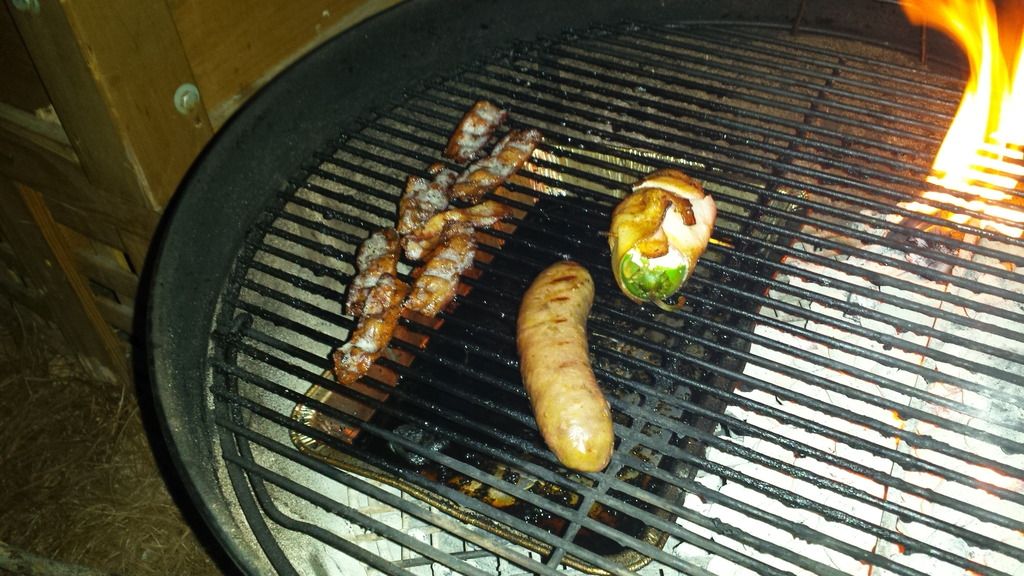 Players finishing up indirect… burger was grilled direct and then moved just to melt the cheese.
All plated with some fried plantains that DW had made earlier in the evening. A canned Blue Moon to wash it all down. Big fan of canned beers…
On the positive, it was really an enjoyable meal. The downside – no room for desert.
Have a great day y'all. Thanks for looking!