Well, how about another SALMON recipe. This is what DH will be grilling for dinner tonight.
Salmon with Citrus-Balsamic Vinaigrette
1/4 cup fresh-squeezed orange juice
2 TB. Balsamic vinegar
juice of 1 lemon
1 TB. olive oil
2 tsp. finely chopped fresh parsley
2 tsp. finely chopped fresh thyme
1 tsp. finely chopped fresh basil
1 tsp. finely minced shallot
1 tsp. Dijon mustard
1 small clove garlic, peeled and pressed
1/8 tsp. sea salt
freshly ground black pepper, to taste
1 1/4 lb. SALMON fillet
1 lemon, thinly sliced, for garnish
lettuce, for serving
1. Preheat the grill to medium high (425 to 475F). Line a pan with aluminum foil and spray the foil with nonstick cooking or grilling spray.
2. In a blender, combine the orange juice, and other ingredients thru black pepper. Pulse until thoroughly mixed. Set aside a portion for serving.
3. Place SALMON in the prepared pan. Spoon a little of the vinaigrette over the fish and bake it in the grill for 12 minutes per inch of thickness, or until cooked through. The inside should be slightly medium-rare.
4. Remove the SALMON from the pan and arrange it on a bed of lettuce on a serving platter. Spoon the remaining vinaigrette over each serving of fish, garnish with lemon slices, and serve. Serves 4
Source: "1,001 Best Grilling Recipes" - Rick Browne-2011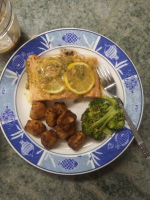 This turned out to be sooo delicious!!!!!!!!