Was able to pick up a Genesis 1000 from 97 to restore. Been reading tons of restoration post here and recently read the below to reference during the restore. If you recommended any other post as well, do let me know.
The grill: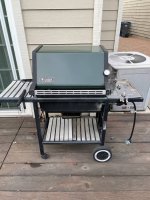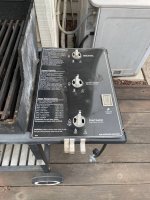 Overall, it seems very good shape for its age. As I was taking it apart, I had issues with removing a bolt. Two question (for now.....)
I was able to remove one of the side bolts here but the other seems stuck. Tried letting it soak with WD40 overnight but no luck. Is the bolt threaded into the firebox? or is it just a push through? The other hole seems non-threaded but I may have caused that upon removing the bolt? If its just a hole, maybe I need to smack the bolt out.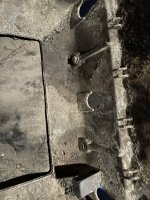 I also plan to get a quote and see if sandblasting the firebox and endcap is affordable here. In the image below, would leaving the burner screw there that holds the tube during sandblasting be an issue? It seems highly suggested to NEVER REMOVE THOSE SCREWS. As for the screw in the middle with the nut, I had to drill off the nut for it kept stripping and had no grip =/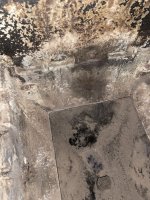 Buy list:
Ignitor:
https://www.amazon.com/dp/B01BWCW390/?tag=tvwb-20
Stainless Bolts and nuts: Fastenal
Knob replacement:
https://www.walmart.com/ip/Weber-Ge...-Knob-3614-78960-Replacement-3-Pack/739885315
Ignitor button replacement: Seems to be discontinued and OOS in most places. I saw on this post (
https://tvwbb.com/threads/new-black...replacing-the-old-gray-ones-on-my-2000.74987/
) that a black one can be used and fit? Not sure how it would look with the green hood? Thoughts?
This is it for now. I am reading up on all the post on the paint for firebox and frame. Its quite a dilemma.
Appreciate any advice or things to look out for. First restore for a hopefully lifer grill.
Last edited: