Any tips on how to prevent these overshoots?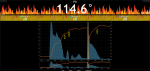 The first few spikes aren't even that high (and maybe I just needed a but more patience). The last one is after I opened the lid.
My current PID output parameters (on Celcius) are:

Oh, a quick addition: Even with these spikes everything did stabilize without intervention.