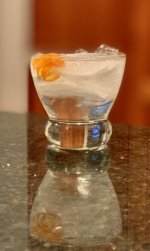 I really like gin, and have recently been exploring the Gin Old Fashioned. Tonight's version is an Orange Gin Old Fashioned:
3 oz gin (Bombay Sapphire this time)
.5 oz simple syrup (50/50 water/sugar by volume, simmer to dissolve, chill)
7-10 dashes Orange bitters
I prefer to swirl this with ice in my cocktail shaker, then pour over ice into my cocktail glass, but if you prefer shaken, by all means. Tasty stuff!
If there are any gin lovers looking for a straight sipping gin, might I recommend, Boomsa Jonge Genever from The Netherlands. I keep it in the freezer, pour straight up in a glass.....viscous, smooth, incredibly well balanced botanicals.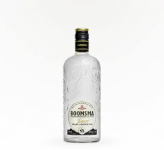 Have a good evening!