Orange-Curry Beef Kabobs
1 (1 lb.) lean, boneless sirloin steak
2 medium size, thin-skinned oranges, unpeeled
1/4 cup reduced-calorie orange marmalade spread
1/4 cup unsweetened orange juice
1/2 tsp. curry powder
1/4 tsp. garlic powder
vegetable cooking spray
1. Partially freeze steak; trim fat from steak. Slice diagonally across grain into 1 x 1/4" strips; set aside.
2. Slice oranges crosswise into 1/2" thick slices; cut each slice into 8 wedges. Set aside.
3. Combine marmalade and next 3 ingredients in a small, nonaluminum saucepan; cook over medium heat until marmalade melts, stirring occasionally. Remove marmalade mixture from heat; set aside.
4. Weave steak strips onto 4 (12") skewers accordion-style, placing an orange wedge between each loop. Coat grill rack with cooking spray; place on grill over medium-hot coals. Place kabobs on rack, and cook 10 minutes or until desired degree of doneness, turning and basting frequently with marmalade mixture. Yield: 4 servings.
Source: Cooking Light mag. 5-88
This was dinner tonight, served with risotto, yellow squash, zucchini. Everything was DELICIOUS!!!!!!! Sorry, sauce did not make it in picture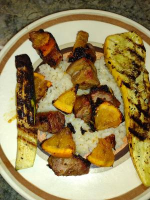 Last edited: