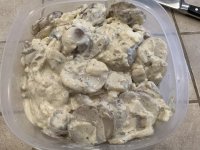 Red Potatoes (about 3lbs)
1/4 cup of finely minced white onion
1 1/2 cups of Mayonnaise
3 Tablespoons Apple Cider Vinegar
1 Tablespoon Sugar
1 Tablespoon Salt or salt to your taste
2 Teaspoons of Fresh Ground Black Pepper
1 Teaspoon Garlic Powder
3 Tablespoons dried Italian parsley
6 sliced hard boiled eggs
Wash potatoes and cut them into coins (not thin, and not too thick)
Place them in a large pot of water
Salt the water to your liking
Bring to a boil, a slow boil, for about 20-24 minutes
Test your thicker coins for them just being fork tender. DO NOT OVER COOK
Drain the hot water, and concurrently add cold water to stop the cooking process.
Strain and drain the potatoes once cooked and let dry, around 10 minutes should be enough.
In a large work bowl, add all ingredients except the sliced eggs and cooked potatoes.
Once will mixed, fold in your cooled potato coins. Gently incorporate the sauce across all the potatoes.
Add in the sliced hard boiled eggs.
Gently fold in the eggs with 4-5 folds. Don't over mix the eggs as you want to retain some of their shape.
This dish can be served the same day. But fridging overnight will result in better flavors and taste the next day.