Greetings all,
So after a few days of research I settled on a thermometer that gives me the ability to monitor the ambient temperature of my WSM 18.5, as well as whatever I have on the smoker. I would have been comfortable with something that's had 2 probes and a grill clip and used batteries, but I came across this:
ThermoPro TP-25:
Available on Amazon
Comes with 4 colour coded probes
Uses Bluetooth
Uses an app on your phone instead of a receiver
Does not require batteries, but is rechargeable
Has a few thousand positive reviews
Priced at $75 Cdn. (So, that's like $3 for our American brothers and sisters. )
Now since I am in Canada, I wasn't too eager to order from a U.S. site as our conversion rate is terrible for the Canadian dollar. I've previously been using their thermpro pen with instant read and have been very happy with it, so I figured "why not"? I just received it about 5 mins ago, so here's a few unboxing photos for your viewing pleasure.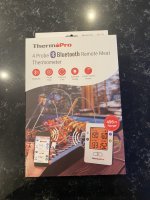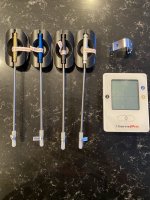 Here's hoping it's a decent unit. (*I have no affiliation with this company*)
**Update**
- Had all 4 probes and the thermal pen in a glass of hot water poured from our water cooler. (Not boiling but quite hot.) All measured at 143 °F, and fluctuated by 1-2 degrees as the probes were touching each other. As soon as I seperated them, back to 143 °F. The app probably took less than 2 seconds to pair with my iPhone.
Anyone else have experience with this one?
Brad.
Last edited: