I finally replaced the burners on my Genesis - wow, what a difference! Easy to light, nice blue flames, running just like new again AND I've finally got a decent outdoor lighting solution for grilling after sundown. My old burners were making yellow flame and although the lid thermometer would read over 500F for 10 minutes or so, the old burners were not putting out enough IR to get the grates hot. I'm equally excited about my new grilling light....if you have outdoor lighting issues, you may want to check it out.
I kept the first cook with the new burners really simple, marinated chicken breasts and garlic bread (lighting provided by the new tri-pod set up)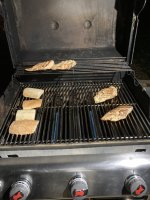 Here's the new light tripod set up. My grills are too far away from my back porch light to get light from the port. The tri pod is a light weight telescoping unit designed for holding a smart phone for photos and video, but I put a rechargeable Powersmith brand flood light on it. Bought both items for < $60 on scamazon. I'm really liking the light output and easy set up/take down. Someday I might come up with a more aesthetically pleasing solution for outdoor light, but this is working really well for now. Prior to this, I was wearing a dang headlamp every time I went outside to flip a burger.... I can share links for these products if anyone else wants to try it - they bolt right together with no MacGyvering required.