Administrator
Staff member
Carolina Kitchen & Barbecue Co
950 Glendale Ave
Sparks, NV 89431
775-359-4776
To Place a Pickup or Delivery Order For The Restaurant CLICK HERE For Holiday Catering CLICK HERE These days the word "best" is used too frequently. We at Carolina Barbeque back it up with our… Food Quality: All of our catering food is made fresh; never re-heated. Satisfaction Guarantee: If you...
carolinakitchenbbq.com
This joint was featured on
Diners, Drive-Ins & Dives
on November 8, 2019 (
season 30, episode 18
). My wife and I like to visit Triple D restaurants when we travel, so we fit this one into a recent vacation to the Lake Tahoe area.
The physical place is not much to look at, both inside and out. The restaurant is located in an industrial part of town, in the front end of a warehouse building. They were doing a brisk lunch business when we visited on a Wednesday at 11:30 am, a combination of folks like us and what appeared to be local business folks going out for lunch. There was ample parking available, with part of the parking lot taken up with two big catering trailers and a couple of smokers behind those. There was definitely wood smoke in the air when we arrived.
Overall, the food was good. I had a brisket sandwich with house fried potato chips. No complaints about my sando, the brisket was nicely sliced and tasted very good. I used some of the mild sauce, which I liked. In true North Carolina fashion, it was red, somewhat thin, vinegary, sweet, and not too spicy. They have two hotter sauces, which we did not try. The chips were abundant but nothing special. Served room temp and with uneven seasoning, they weren't much different than a Wavy Lay's out of the bag. My wife had a lunch plate consisting of two slices of brisket, three pork spareribs, fries, mac & cheese, and a square of cornbread. The brisket and ribs were quite good. Ribs had good flavor, were just a little overly tender but not fall off the bone, and were nicely rubbed and served unsauced. The crinkle cut fries were pale and undercooked but edible. The mac & cheese was average. The cornbread was good, not sweet and with a bit of jalapeno mixed in for a kick of flavor.
Barbecue options consist of pulled pork, brisket, pork spareribs, chicken leg quarters, chicken wings, and Cajun sausage. They've also got catfish, fried chicken, Nashville hot chicken, chicken strips, a burger, and a couple of hot dogs on the menu. There are a couple of salads for those wanting some greenery in their diet. Sides include fries, coleslaw, baked beans, tater tots, potato salad, fried okra, collard greens, hushpuppies, red beans & rice, mac & cheese, chili, and house pickles.
Barbecued meats are available by the pound. Ribs are available as 3, 5, 7, 10, and 14 bones, and wings as 5, 10, 15, 30, and 45 pieces. There are lunch specials Tuesday through Saturday. Beverages include soft drinks in cans, bottles, or fountain dispenser, as well as several beers including a few locals. We didn't try dessert, but choices include pecan pie, bread pudding, and peach cobbler.
Our lunch totaled $35.20 before tax and tip, which isn't so bad.
I would say that if you've got a hankerin' for some good solid barbecue, drop by Carolina Kitchen & Barbecue Co. They'll scratch your itch for 'que.
Carolina Kitchen & Barbecue Co. is just a few miles away from the
National Automobile Museum
in Reno. So many cars to enjoy! If you love cars, you should definitely stop at both when you visit the area.
Here are some pics of the restaurant and the food. I didn't take too many pics of the cars, but I'll include the few I did take. There was a special exhibit during our visit of Lightning McQueen and Tow Mater from the Pixar movie "Cars".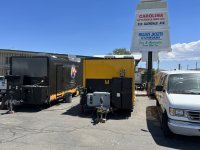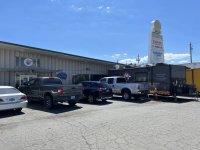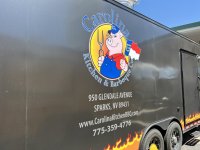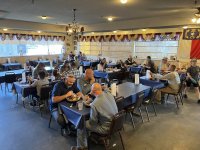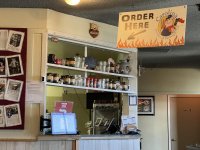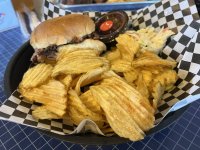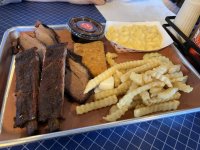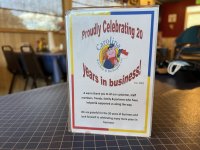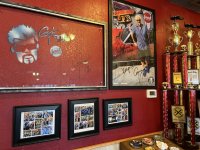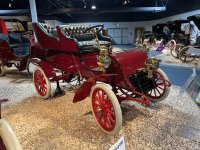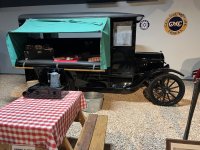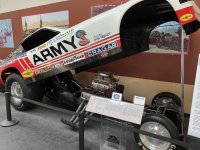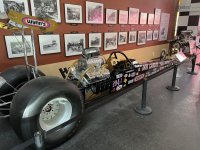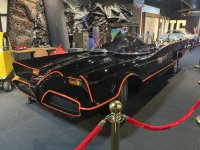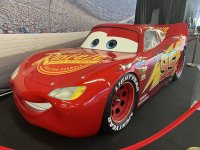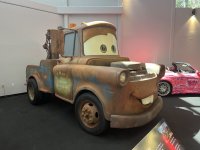 Last edited: