A purists version of the dough. Spent the past week diving deeper and deeper into the pizza abyss.
Will it work? We're going to find out soon.
Will be cooking this directly on my steel with a target temp of the steel at 645° average temp.
I've got 4 pies to experiment with here. At least one might come out right
Each ball is around 248g. Targeting a 12" pie.
Caputo red 00 600g
Cold water 372g
Morton's kosher salt 18g
ADY 4.2g- if you can't measure 4.2 then measure 4g and add a pinch
Combine all ingredients except the flour and incorporate.
Then add the flour into a workbowl, I used a KA mixer, and used the dough hook to create a shaggy dough (water incorporated but not well mixed)
Insert dough hook and knead on lowest setting for 10 mins.
Remove dough hook and tightly cover the dough in mixing bowl. Let's stand and rest at room temp 8-12 hours.
Our house was warm today, 79°, so I let the dough proof for 7 hours until I could see it was spongy and had nice air bubbles.
Very lightly oil your proofing containers and lids.
Roll each 248g ball until your balls are shiny and smooth. Yup. I just wrote that.
Cover and tightly seal each container. Place in fridge to proof for minimum 2 days, maximum 4 days.
More to come when I get to Tuesday.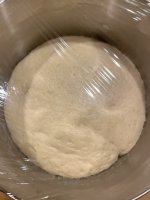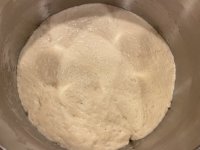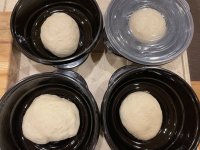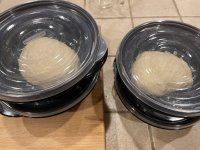 Last edited: