This is in response to a post in another thread asking for pics of my setup. Decided to start this thread so it didn't hijack that thread about cooking pizza.
I had to go back in the archives to find these. Funny how over time you forget to take pics because it all becomes so routine. I use my grill 3 or 4 times a week (down from 5-6 times), so it's just there -- don't take more pics..
First pic is my Genesis after adding the side expansion cabinets (no longer available.). Hardly looks like a Gennie, does it? Notice in the lower left hand corner under the right table sits the original upper grate that I replaced a few years later. Details below.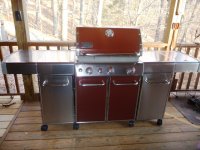 All the following pics were taken on my earlier E/W 3-burner Genesis -- I did the same on my E-330. I frequently use wood chunks to generate smoke, but found that the smoke would gush out under all four sides of the lid. By adding 3/4'x1/8" woodstove gasket using high temp adhesive, the smoke now all goes out the back. (Trying to seal all sides would result in a potential propane bomb -- don't try it -- the air flow is essential. Words of lucky experience.)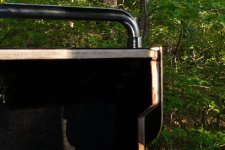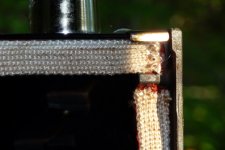 I don't really remember the original reasons for adding an upper grate other than wanting more real estate for larger family cooks. The upper grate tremendously increases the versatility of the grill and I've found it's perfect for pizza. I made it just high enough to clear the original "bun warmer" grate (though I had to cut off the back rail so I can leave them both on). The bun warmer is now seldom used unless for some reason I want more than the 7 inches clearance under the upper grate which is easily removed. To make the upper, I purchased 7-8" long 3/8" stainless carriage bolts (4), 8 fender washers, 8 nuts and an appropriately sized grate. Assemble per pics. The difficulty today is finding a replacement grate, so when I needed to rebuild due to rusted nuts, I had to reuse the grate which fortunately is still in good shape.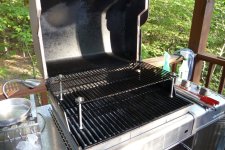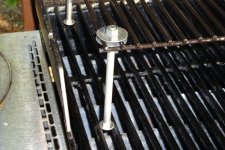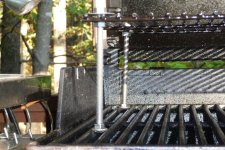 After years of grilling in the ellements, in 2012 I built myself a grill space where I can cook in shelter, comfort and light -- still outside. Here are opposite views of the same space when all was still new. This time the E-330 but before expansion cabinets.