I was
asked
instructed by the CFO to do beef short ribs today.
Trimmed & SPOG'd overnight in the fridge. I didn't have the real estate to get the 5-bone plate on the 14.5 Bullet. (I only cook on the top grate). Had to adapt,(see 1st pic). Heat Beads & Whisky stave wood chunks for fuel & smoke.
All going grate until 1.5 hrs in. Pit temp started to plummet. I have no idea why. It's a bit cool and breezey with sunny spells. Nothing at all to worry about. I've cooked in hell of a lot worse. Pit prep was the same as always. Pit temp probe not touching the meat.
Gave it a few kicks in the shins, and opened up the throttles. No joy.
Time to do the hot-squat to see if there was anything untowards going on in the charcoal ring. WTH!? It looked as if the briqs were going out! Firm action required. Gave the charcoal ring a good shake, and a few vigorous wafts with a piece of cardboard. The pit took off like a scolded cat! Chucked another chunk of whisky stave on. Now sitting pretty at 265F. Back later....hopefully with good results.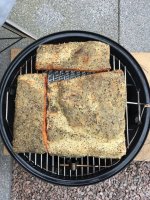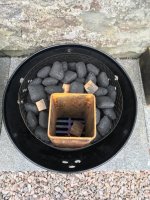 Last edited: