So, I'm in the Carolina's and it's pork all the time around here. I've only found a single place near me with decent brisket but it's super inconsistent so I wanted to give it a go myself.
I've tried 2 flats before in my older offset smoker. Both were meh cause I didn't know what I was doing, didn't cook to a high enough IT and generally bad rub/mop. Fast forward to the start of last years college football season and had a good buddy from Oklahoma make a brisket at the house while I did a butt for a party I was hosting. The brisket was AMAZING! So I've wanted to recreate myself.
The brisket was a Sams Choice packet at 9.7 lbs. I trimmed the fat. Put mustard on and did a basic SPOG rub with some Cayenne thrown in for good measure and a little brown sugar. I wrapped it and stuck it in the fridge over night.
I setup the 26'er with the snake method to get some time out of it, water pan with warm water to help protect the high heat I was going to do and some hickory chunks. Lit about 10 Stubbs briq's. and then let her go while I went back inside. I made some mop of mustard, honey, worcestershire, franks red hot, brown sugar and some garlic powder. I made a little more rub and rubbed her down again.
This is where the issues started.
This was a first using my kettle, my first whole packer, my first using Stubbs for a long cook and my first time using mustard. All that said I put the brisket on the grill thinking it was going to continue to rise in temp to my target of 350-375. Not a chance... not at first at least. Long story short, I ended up lighting about 20 more briq's, 10 in 2 separate occasions to get the grill up to temp, wide open. So, finally it was up to temp after an hour or so with the brisket on. I checked and all looked good. At about the 2 hour mark I decided to mop thinking this was going to be a sub-5 hour cook. I probably mopped a little too much on this first go around. Big mistake. I let it cook for another hour, then checked and mopped again, 2nd big mistake. I put the brisket in a pan, no foil covered to finish up the cook. All told, I had 4.5 hours into the cook with the IT at 195 and it, what I felt was fork tender. I then pulled it off the grill, left in the pan and lightly covered the pan, not touching the meat and set in the oven for 1.5 hours.
Why was this a bad cook? 2 words, mushy bark. I think, and would love your feedback here, but I think I mopped too soon, before the rub had really started to firm up. I think that by adding more rub in the morning, this contributed. I also think too much mop on the first go around contributed as well. The meat was great and tender, had a decent smoke ring and I even made lunch today with some cube'd up point.
I'm overall happy with the cook, and now know what to do next time.
Thanks for the read and feedback. Of course there's a few pics, but no action shots.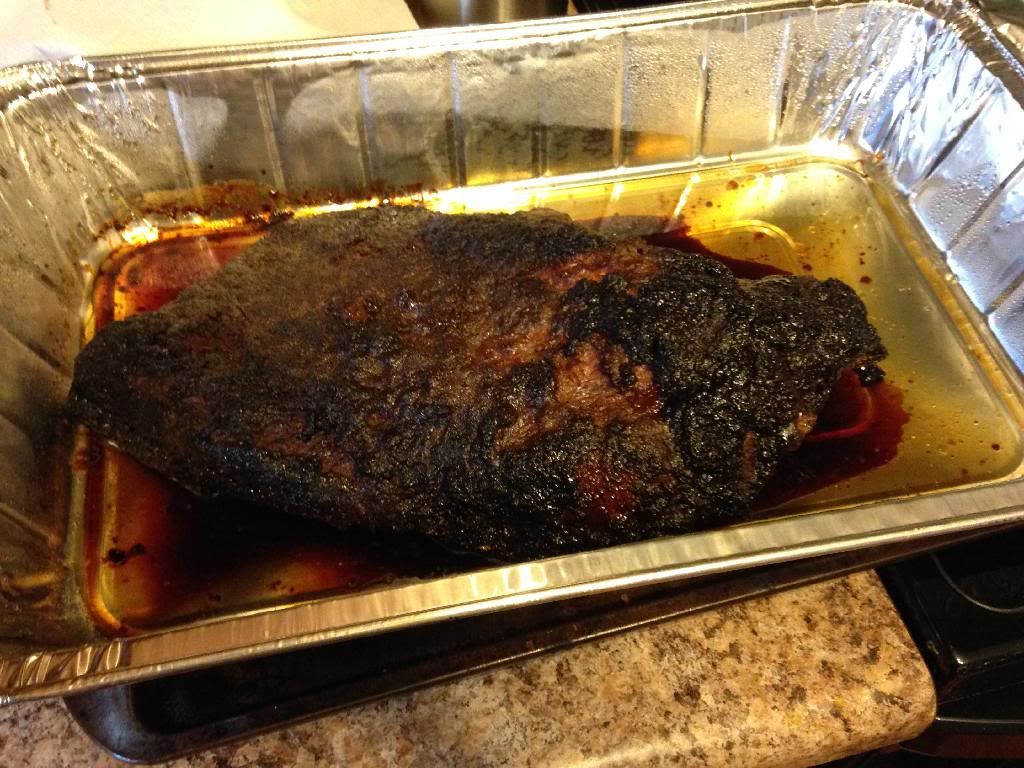 My slicing was NOTHING compared to some of you guys. I need a sharper knife!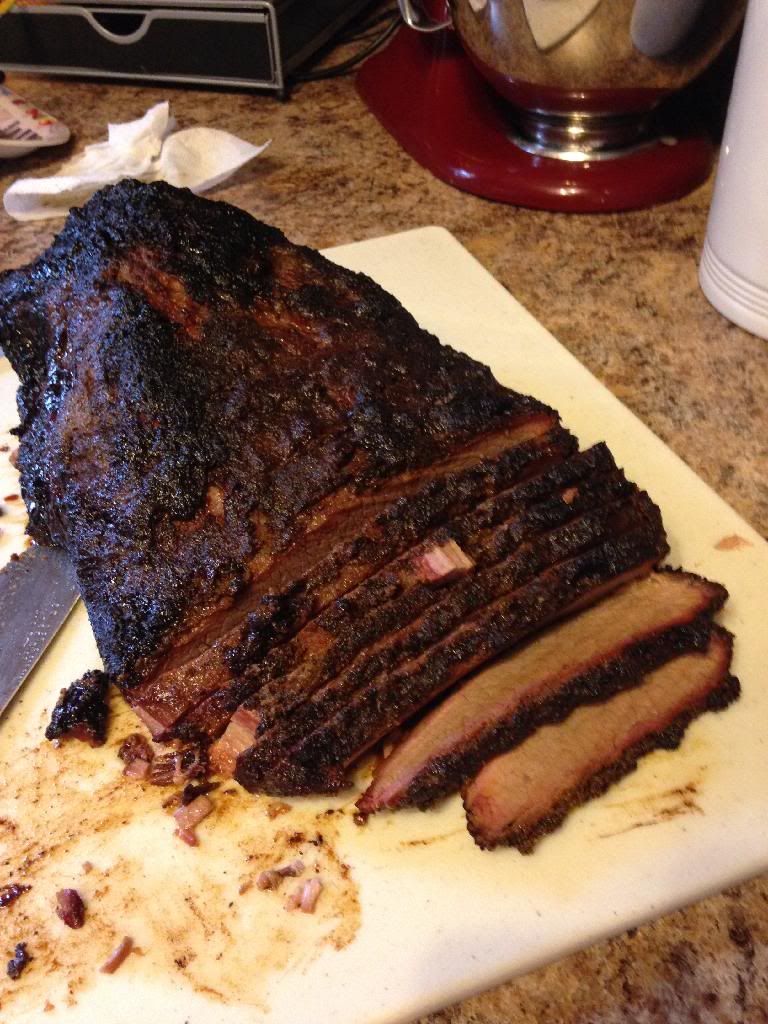 It did come out fairly moist, so I'm happy with that part.
Some misc. cut pieces here for the wife and kids instead of plain slices.
And lastly, my lunch today. I'm probably going against the grain here... but I sautéed some cubes from the point (didn't make true BE's this time) with some butter to heat them up. Turned down the temp and added some BBQ sauce. I then graded some fresh parm while toasting some plain ol' white bread. Put it all together and one of the better sandwiches I've had in some time!
Sorry for the long read, and post.