Yesterday I smoked up some bacon I had cured to get my winter stash going.
A full belly and a two pound pork loin of Canadian bacon.
Used Tender Quick and a slurry of maple syrup, brown sugar and cinnamon for the cure.
Ran the Camp Chef at 160 until the bacon hit 140.
Tried a new mixture of 50/50 Weber's Apple Pellets and Pit Boss All Natural Charcoal Smokey Blend. Really like that combination nice mellow Smokey flavor, it's going to be my bacon blend from now on.
This is the first time I've really given our new Beswood a good workout and I am impressed. Fifty two vacuum bags with six slices in each bag 312 slices total. Ran it nonstop and it didn't even get warm, it was like slicing soft butter.
Here's a few pictures of the cook.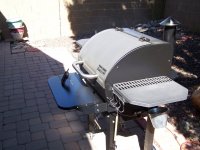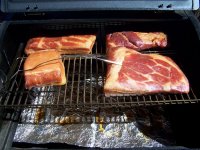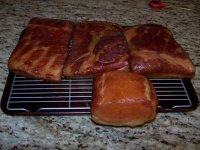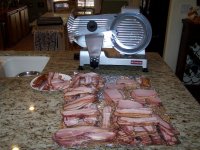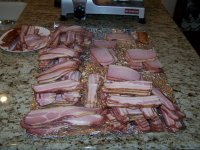 Whitney lurking in the shadows watching Barb and I working on the bacon ready to pounce if a mistake is made.