I hope everyone is enjoying the beginning of fall. I caught the DIY lawn care bug about 6 weeks ago and have been gobbling up info on how to improve my grass to weed ratio. In the late summer, I was battling some nutsedge, wild violet, and creeping charlie. I can't say that I've totally won, but I put a hurting on them for sure! A week ago today, I had a some help putting down about 14 wheelbarrows of top soil, then seeded with shade tolerant tall fescue and topped with a thin layer of peat moss & Scott's starter fert. On three days ago, there wasn't much to see but now I have baby grass all over the place! These pics are my back yard. My front yard didn't really need a total rehab, and is half zoysia and half cool season grass mostly shaded by some big-ole hickory trees. I decided to over seat the cool season with some creeping red fescue and it's taken off pretty quickly.
I'm really happy with my results so far. I've learned a lot about watering and my plan seems to be working out pretty nicely. I was able to use mostly sprinklers I already had, but did invest in a battery powered rain bird auto-timer and I really like that goofy thing. It does a great job without restricting waterflow and keeps me from over watering. I also planted some seed in pots of peat moss. I did this basically to gage whether or not the stuff I planted in the lawn was going to come up, to see difference in seed growth, and to get a good comparison between the look and feel of each type of grass. The annual rye grass come up first as expected, but I was a little surprised at the difference between the other grasses. The creeping red fescue came up second by about a day, then the turf type tall fescue (TTF) from seed superstore came in just after than, and then the Jaguar fescue blend I bought from a local nursery. I'm really happy that I bought the TTF from seed superstore - I can already see it's better than the stuff I can get locally.
Without further grass nerd talk - here are some pics. Let me know what's up with your lawn!
This was Wednesday morning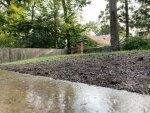 This was this morning (the following Sunday)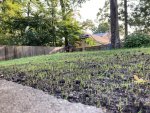 Here are the test pots (temporary fence in background to keep my dogs from messing up my grass. I'll remove in a few weeks and cross my fingers).