The last brisket I cooked was a Costco Prime using the BP method and it was a
big flop
. So, after cooking many a brisket, I had--for the first time--a little self-doubt. I volunteered to cook one for a friend who is laid up, so I bought another Costco Prime (16 lb. untrimmed, $2.99/lb.) and decided to go Old School and do a L&S overnighter.
Hope your windows are shut at midnight, nice neighbors.... Houston, we have ignition on about 25-30 briquets for Jim Minion's brilliant invention
Trimmed with Montreal applied
Propped up in my 18.5" with a box cheese grater thoroughly sprayed with Pam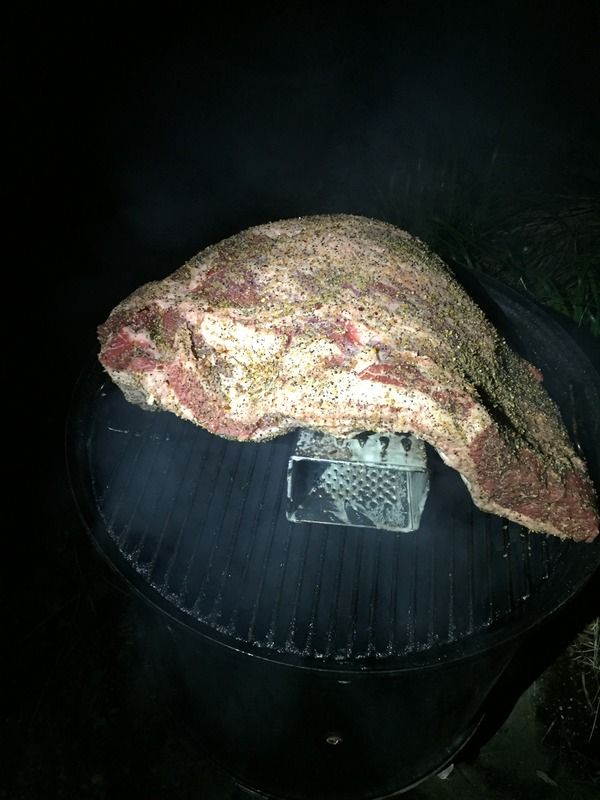 Had one good sized hunk of pecan left that barely allowed the door to close given the amount of KBB I stuffed in there for my overnighter
Closed the windward vent and left the leeward ones open 25%. Filled water pan and went to bed with temp barely at 200. Got up and checked 7 hours later to find the bulletproof WSM sailing along right around 235. Meat was mid-160's and in the thick of its stall.
Started spritzing with my concoction of Shiner Bock and apple cider vinegar (about 4 or 5-to-1). At 14 hours, internal temps were 195-200 and she probed tender. Went into several sheets of foil, then a beach towel before fitting into a faux cambro with lots of newsprint filling dead air pockets. Rested for 4 hours and was still nice & hot.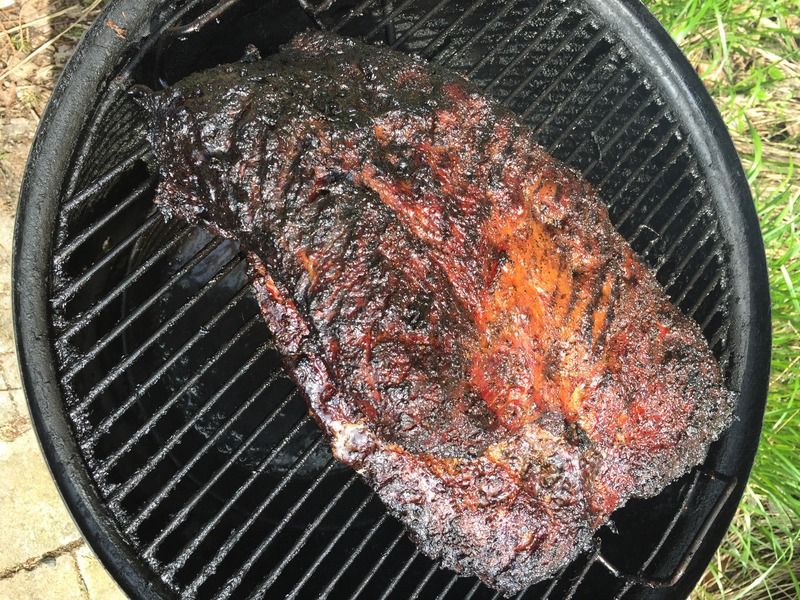 No "after photos," as the completed packer was taken to that friend. All-in-all? One of the best I've ever cooked. Sticky bark.... passed the over-the-finger + tug test.... fat was silky and cooked.... juicy.... point was decadent and rich. Phew. A confidence (re)builder.