Wanted to share this recipe. Makes wonderful chorizo. It is a Mexican, not Spanish Chorizo.
Makes great tacos and awesome burgers when mixed 50/50 with ground beef.
I cut my pork into 1 inchish cubes. Mix with pepper slurry. I grind twice, 1/2" plate (coarse) followed by 3/16" plate. I grind as bulk but do not put it into casings.
RECIPE IS FROM: Mexican please.co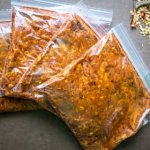 Easy Homemade Chorizo​
pork
Prep Time:
30 minutes
Cook Time:
30 minutes
Servings:
Servings: 40 calories: 185
Source:
mexicanplease.com
INGREDIENTS​
5
lbs. ground pork EDIT: (uncooked)
10
Ancho dried chilis
12 1/2-15
New Mexican dried chilis
1 1/4
onion
7 1/2
cloves garlic
2 1/2
teaspoons Mexican oregano
1 1/4
teaspoons cumin
2 1/2
tablespoons salt
freshly cracked pepper
5/8
cup apple cider vinegar
splash water
DIRECTIONS​
Start by wiping off the dried chilis with a damp towel. De-stem and de-seed the chilis, but don't worry about getting rid of every last seed.
Roast the chilis for 1-2 minutes in a 450F oven, or you can flash them on a hot skillet for 30-60 seconds.
Place the chilis in a bowl and cover with hot tap water. Let the chilis reconstitute for 20-30 minutes. You can use a small bowl or plate to keep them submerged.
Drain the chilis and discard the soaking liquid. Add the chilis to a blender along with 1/2 onion, 3 cloves of garlic, 1 teaspoon Mexican oregano, 1/2 teaspoon cumin, 1 tablespoon salt, some freshly cracked pepper, 1/4 cup apple cider vinegar, and a splash of water. Blend until you have a thick paste.
Add blender mixture to 2 lbs. of uncooked ground pork and combine well using a spoon or your hands.
I store these in 1/2 lb. chunks using Ziplocs. I keep one in the fridge where it will keep for a few days and store the others in the freezer.
NOTES​
Cook as you would traditional sausage. I use a skillet over medium-high heat and give it 3-5 minutes on each side.
Last edited: