The weather was awesome in St. Louis this weekend. A perfect time for an all day smoke. I did a chuck roast on the WSM with a little early morning help from my assistant pit masters. If you enjoy smokey beef and beef brisket and haven't tried a smoking a chuck roast yet, you should give it a whirl. You could do this on just about any size kettle or WSM. Here's what I did;
I dry brined this 4 lb chuck for about an hour in the fridge, while I was getting the smoker ready and ran between 275 and 300 from about 9 AM till about 2 PM with a fire dial. I spritzed with 12 oz Shinerbock beer, about 8 oz apple juice and 3 oz soy sauce about every hour and smoked w/pecan chunks using kingsford all natural briquettes. At 2 PM, the meat was definitely in a stall, at 161F so I put the meat in a foil pan and filled the bottom to about ¼" deep with the spritzing liquid and put it back on the smoker and kept running at about 300
I ended up with some good (not perfect) bark. After the final 3 hours in the foil-pan, the meat was about 205F. "Done-ness" on a chuck is just like a pork but. You have to go by temperature and feel. If temperature is 199 but the probe doesn't go into the meat like room-temperature butter, it's not done. I shut all the vents on the WSM, covered the pan, and stuck it back in the smoker to hang out while we prepped other ingredients for burrito bowls. Rice, beans, fajita style onions and peppers, a spoonful of guacamole. Pretty hard to beat!
Chuck Roast in the foil pan and fajita veggies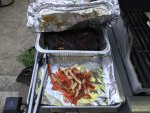 Slicing was a bit tricky w/meat so tender, but you can see a little smoke ring there!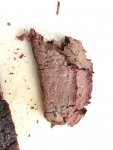 Here's a slice hanging off the edge of my carving knife, you can also see how I chopped it up to go in the burrito bowls;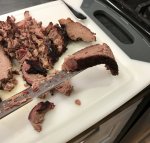 Here's my fully loaded bowl. I put a healthy dash or two of Texas Pete's in mine!