We started off the weekend with a drive-through high school graduation (thanks Covid).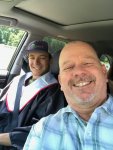 We followed it up with a couple of racks of St. Louis-style ribs. Top one seasoned with Meathead's Memphis dust,
the bottom with the original rub recipe from smoking-meat.com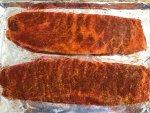 After about 3 hours. I used a couple large chunks of cherry, placing them one at a time on the
hot coals (tin can minion method)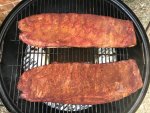 Sauced up for the last 20-30 minutes. Top rack with Heinz Kansas City sauce, bottom rack with homemade sauce
from Smoking-Meat.com (good stuff, better after sitting 24 hours).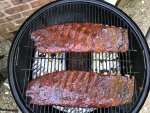 Baked beans hiding out under the ribs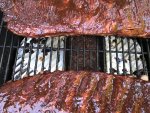 The finished beans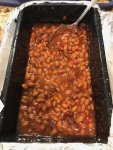 The ribs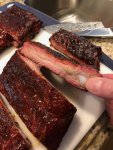 And the messy plate (should've added something with color....whatever)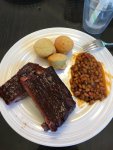 St. Louis might have been proud (is that a piece of rib in his left hand?)