Hey. I have had a weber q grill for about 15 years that I love. Recently though, I picked up an old weber. I don't think this will be an honest restoration. It is in decent shape. I just plan to get it working a 100% and use it for a while.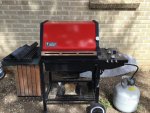 I had it lit for a moment. The burners look to be in pretty good shape. Then the tank ran out and I realized the tank had a quick disconnect I had never seen before.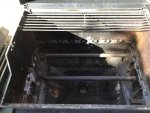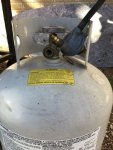 The tank is old. I don't think my Ace will refill it. Plus I have two
normal
style tanks, and I would really like to have all the same style of tanks. So I need to find a different regulator/connection I assume.
The old stock grates a little rusty and seem like they were cheesy anyway. I'll be replacing those. Seems like rcplanebuyer stainless is the way to go.
The flavorizers are still in good shape.
The igniter doesn't seem to be working, but I haven't messed with it much yet.
Recap:
Thorough Cleaning
New Regulator
New Grates
Test/Replace Ignitor
Sand and finish/seal/stain/oil the wood
The hour I spent bopping around this site showed me there are some experienced redhead rehabbers are floating around. Please chime in with obvious missing pieces of info or recommendations for anything else I need to do to get this rolling. I am going to be buying some parts today and tomorrow.