Administrator
Staff member
Update: See my reply below this post.
I've got a friend that has two Weber kettles he wants to sell. Both are located in the Santa Cruz mountains near San Jose/Silicon Valley.
One is a 1969-1972 BAR-B-QUE KETTLE PAT PENDING 18.5" avocado green kettle. It's sweaty and kind of in rough shape, with some rusty spots on the lid and bowl and around the welds on the two metal bowl handles, as well as one spot that goes all the way through the bowl. It's missing a damper or maybe two on the bottom of the bowl. The wooden lid handle is long gone, replaced by a modern plastic one. The wheels have been replaced with something new. Having said all that, the finish has a nice shine to it and the lid vent is in good shape. It's also got the original twist-on ash pan, a little bent out of shape. This grill should clean up nicely but will show its age, for sure!
People are asking $300-$450 or more for grills like this online, my friend would be happy to get $200, I think, if it goes to a forum member or a friend of the forum.
He's also got a 1981 22" black kettle he wants to sell. It's got some cracking and rust on the lid, but some nice shine to the finish, original wooden handles, etc. I think he'd take $75 on this one.
If you are interested in either of these, send me a note by clicking my face then "Start conversation".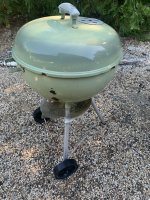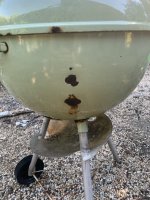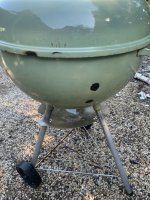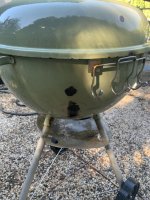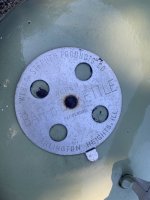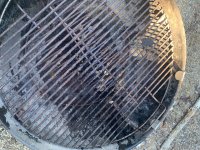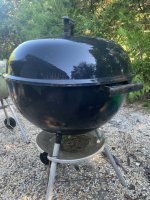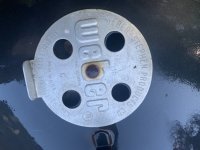 Last edited: