Administrator
Staff member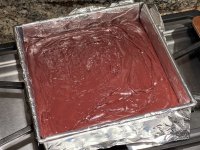 Not sure what possessed me to try this, I'm not a big fudge fan. But it's pretty much foolproof as far as fudge recipes go. From
Cook's Country magazine
, Dec/Jan 2019.
You'll need a
Thermapen
or better yet a
ChefAlarm
that you can clip onto the side of the sauce pan to measure temperature while cooking the ingredients.
Line an 8" square baking pan with an aluminum foil sling--two sheets of folded foil 8" wide in an "x" pattern and sprayed with non-stick spray. You can easily lift out the fudge for slicing using the sling after the fudge cools.
You'll need:
3 cups (21 ounces) packed light brown sugar (Make sure there are no big clumps)
12 TBSP unsalted butter, cut into 12 pieces
2/3 cup evaporated milk (NOT condensed milk!)
1/2 tsp table salt
12 ounces (three 4-ounce bars) Ghirardelli 60% Cacao Bittersweet Chocolate Premium Baking Bar, chopped (Accept no substitutes!)
5 ounces Kraft Jet-Puffed Marshmallows - 21 marshmallows (Not mini marshmallows. Use fresh marshmallows, I'll explain why later!)
Using a large saucepan, combine sugar, butter, evaporated milk, and salt. Bring to a boil over medium-high heat, stirring frequently. Once boiling, reduce heat to medium-low and simmer, stirring frequently, until 234*F. This is where the Thermapen or ChefAlarm comes in. This may take 5 minutes or longer depending on your cooktop.
Once at 234*F, remove saucepan from heat and whisk in chocolate and marshmallows. Chocolate will melt quickly; marshmallows will take more effort, keep whisking until fully melted.
(My marshmallows were a few months old, still within the "sell by" date, but had lost their corn starch coating and were very sticky and tended to stick together in 3-5 marshmallow clumps. This made it much harder for them to melt, so use fresh marshmallows that won't clump together.)
Once the chocolate and marshmallows are fully combined and the fudge is the consistency of cake frosting, transfer it to the prepared pan. Push the fudge into the corners of the pan and tap the pan on the countertop a few times to help it settle flat.
Cool at room temperature for 2 hours, then cover and refrigerate for 2 more hours.
To serve, lift out fudge using the foil sling. Cut into 1" cubes. Let warm at room temp for 15 minutes before enjoying!
Last edited: