Hello Everyone,
This was my first smoke day, and although I wasn't able to actually cook on the Saturday itself, I was excited to smoke something this weekend. I was also especially eager to cook this weekend as I recently invested in my first leave in probe thermometer, the Thermoworks Smoke X4. This is a 4 probe thermometer, featuring a 1.24 mile range between the base and receiver, coming with three meat probes and one air probe. Although this is probably overkill for my little operation on my WSM 14, I felt the additional probes plus the compatibility with Billows will give me much more flexibility for years to come, especially if I buy a bigger cooker down the line. I was also able to catch a 20% off sale as well, making it more enticing to spring for the newer model.
Getting to my cook, the family wanted ribs and there was a sale at our local grocery store on Baby Backs. Although leave in probe Thermometers are notoriously hit or miss on ribs, since it is hard to get a good probe insert between the rib bones, I was excited to play around with my new toy. We had bought three racks, and my plan was to cook two half racks lying flat on the bottom grate, while using a rib rack for 4 half racks on the top grate. The bottom rack would stay on the smoker for the duration, while the top two racks I planned to go 3-1-1 style. A rub I use for a lot of my cooks is the Pork Barrel BBQ rub which can be found in bulk at Costco. It's very versatile, and has no sugar added, so if you are looking something less sweat with a slightly peppery bite this is a good bet.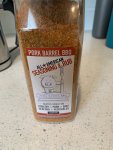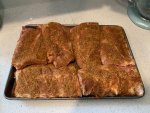 I used a little camper table to hold the Smoke base and was able to squeeze two meat probes and one air probe through the grommet. I think in the future I'd be able to fit one more, just takes a little little maneuvering. I put one meat probe in the rack in the bottom grate and stuck one in a rack on the top. In order to prevent any contact with the lid for the top probe I put a little foil over it. Since the ribs were standing up in the rib rack you I had to insert from the top on an angle.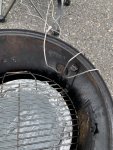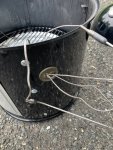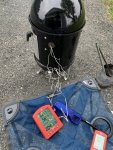 Within the first ten 15 minutes after putting food on I noticed the first real benefit. The air prob temp read 236 degrees, while the lid only 150 degrees. I'd had always relied on the lid temp for previous cooks, aiming to get in the smoke range of 200-275 regardless of the meat. Who knows what temp I was actually cooking at?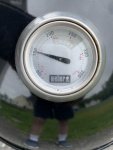 As for the cook itself I enjoyed monitoring the cooker and meat temp, and experienced great results using the receiver. I was making some potato salad throughout the cook and alway had my eyes on the cooker temp. The smoker was at 250, and the rib temp quickly rose to 140-150 within the first hour, then stalled at around 160 for hours 2 and 3. I sprayed the ribs with AC Vinegar at the two hour mark, which unfortunately let a lot of heat out of the smoker. For this cook I ended up using a lot of recycled coals plus a full light of my mini chimney, I think there was a lot more ash in there then I would have liked which led to lower temps of 220-230 for the remainder of the cook. I did add a little more lit coals at 3 hours, but was still unable to get higher than 240. Wrapping the meat on the top rack helped the temps rise, where I got to about 175 internal within an hour, the lower rack around 170. After unwrapping and reinserting the probe I must've hit a bone or something, as the temp just stuck around 145.
With dinner quickly approaching, and the ribs not quite as done as I'd like, I decided to focus on keeping the cooker a steady 240 for the last hour, and ignoring the probe temps as they'd seem to gone awry. In the end I pulled the ribs off at 6:45PM and sauced immediately with Sweet Baby Rays, for a total of 5:20 hours of cook time.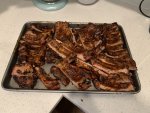 The ribs themselves were not my best, having a little more tug then I prefer. I'd estimate they got to about 180 degrees internal. They had great flavor though, and my family still thoroughly enjoyed them as well as the aforementioned potato salad.
While using the meat probes was a mixed bag for this cook, having the grate probe was a real eye opener and will be a great asset for future cooks. I hope to smoke my first pork shoulder in the coming weeks which will be a better use for the meat probes. Overall, a few lessons learned from this cook:
1) Leave more cook time for ribs, at least 6 for baby backs, and 7 for spares. Although 3-2-1 and 3-1-1 are guidelines, every cook is different and may take longer to produce the results you aim for.
2) For longer cooks ditch the reused coal. I've previously seen my smoker run hotter with a full charcoal ring, with lid temps hitting 250 (who knows this could be 275-300 grate temp). I plan to save recycled coals for shorter cooks like chicken or wings, but for 6+ hours only use fresh.
3) For my wrapped ribs I left them on the smoker this time while in foil, while in prior cooks putting them in an oven for that timeframe in order to conserve heat. Where in this case I had an unwrapped rack on the bottom grate, it could have benefited from being the only item on the smoker for a little time.
A long post but a lot to share! I hope everyone had a great smoke day!
Cheers,
Kyle