Had a nine pound pork shoulder I was saving for a nice day to smoke it. Now that I have the pellet smoker I decided yesterday was a nice enough day.
Been a long time especially in the winter that I've done an L&S cook.
First of all I got started late it was 11 am when I put it on.
Dialed the grill up at 225. Used Camp Chef Competition Blend pellets.
The grill ran a steady 220 -230.
At the eight hour mark I foiled it and bumped up the temperature to 250 it settled in at about 255-260. An hour later it probed at 197 and I pulled it.
Came out really good, nice smoke flavor and very moist.
I monitored the cook with two mavericks one for the beef roast and the other for the pork and grate temperature.
I only came out a couple of times to check the pellet level.
I'm very pleased with the results the Camp Chef performed perfectly. Cleanup was about 20 minutes this morning.
Things I would change:
Run a little higher temp to set the bark better.
Start a lot earlier although it was a snap decision to do it yesterday I had planned on doing it today.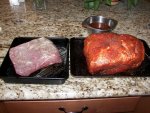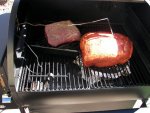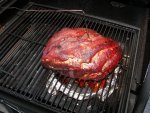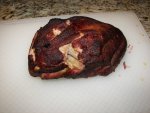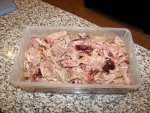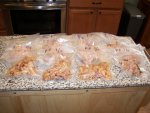 Last edited by a moderator: